Food & Drink
A Colorful Mediterranean Menu by Annie Campbell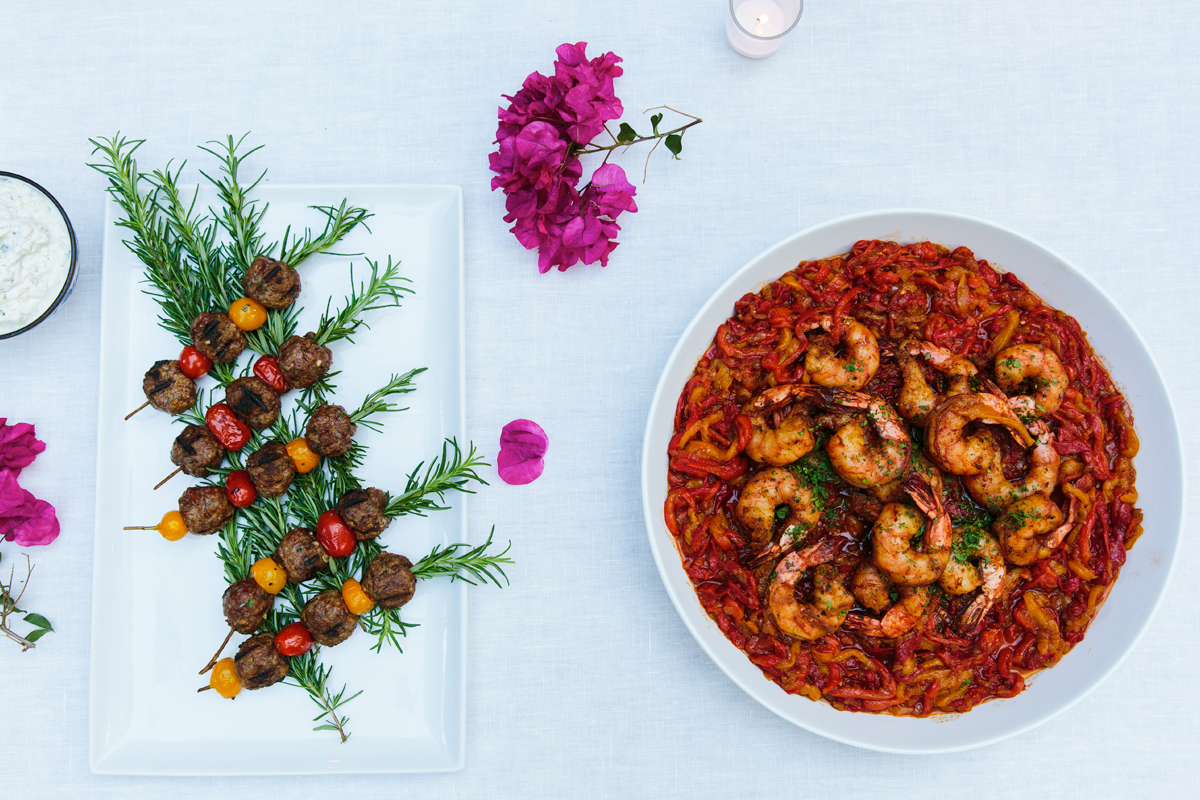 Yesterday we shared all of the beautiful details from chef and event designer Annie Campbell's Greek-inspired dinner party. Next up: the delicious Mediterranean menu. "This kind of easy summer cooking is only as good as its ingredients," Annie explained. "Luckily, this is the best time of year at the farmer's markets, which are loaded with amazing tomatoes, cucumbers, peppers, and zucchini right now." 
Annie started things off with a gorgeous mezze platter filled with all of those market goodies and then some. Think: hummus, baba ganoush, olives, feta, and more. The cocktail of the night was a cucumber honeydew margarita, which was beautifully mellow so as not to overpower the fresh, light flavors on the menu.
When you're serving a dinner buffet-style, it's important to set up the spread with as much care as you do the main table. Annie used a linen tablecloth, votive candles, and clipped bougainvillea to add life to the table, and served the food on beautiful pieces from Hudson Grace and Nickey Kehoe. The dishes consisted of ground lamb skewers with cherry tomatoes and tzatziki, roasted prawns with pepperonata, grilled zucchini and summer squash with parmesan, an orzo salad with spinach, and a gorgeous Greek salad. Everything was colorful, farm-fresh, and loaded with gorgeous flavor.
For dessert, Annie served baklava—a Greek tradition—along with blueberry and honey yogurt pops. "The combination of Greek yogurt, honey and blueberries fit both the theme and the color palette!", Annie told us. "And what's more fun that popsicles?" Not only were the popsicles photogenic, they were also a delicious way to finish an already lovely meal. XXJKE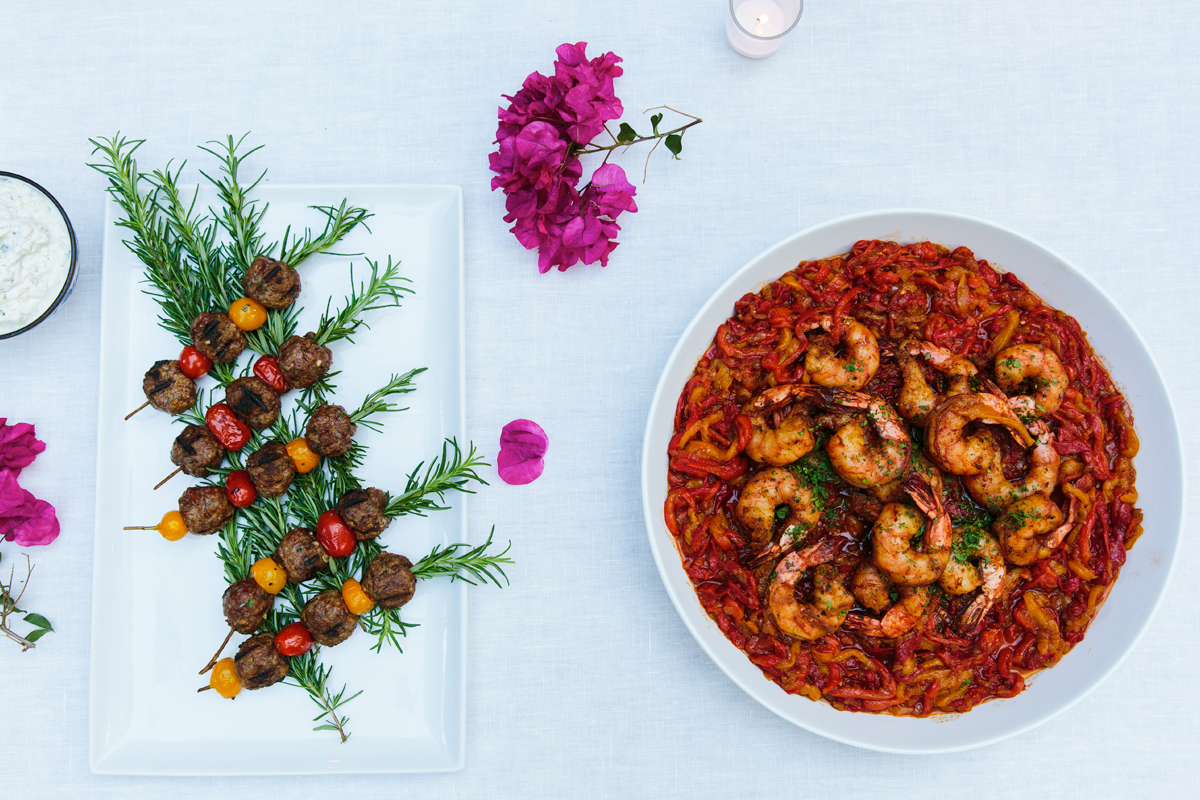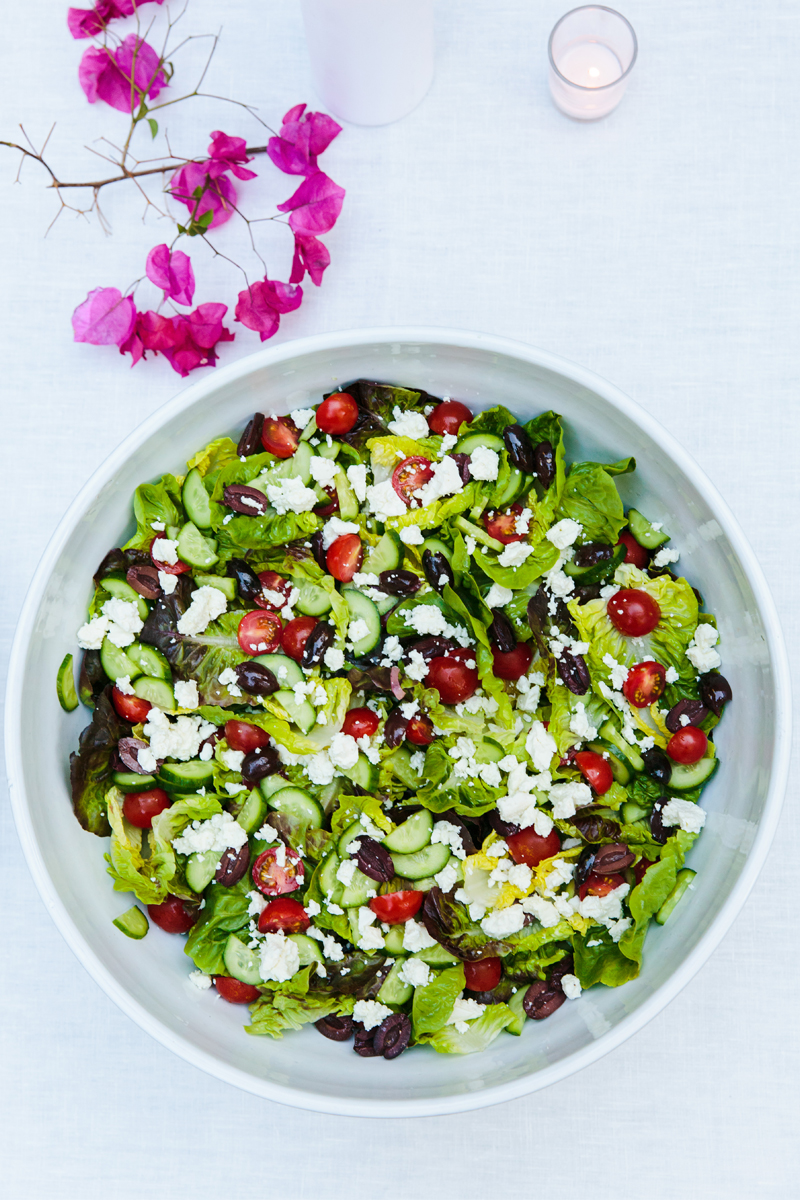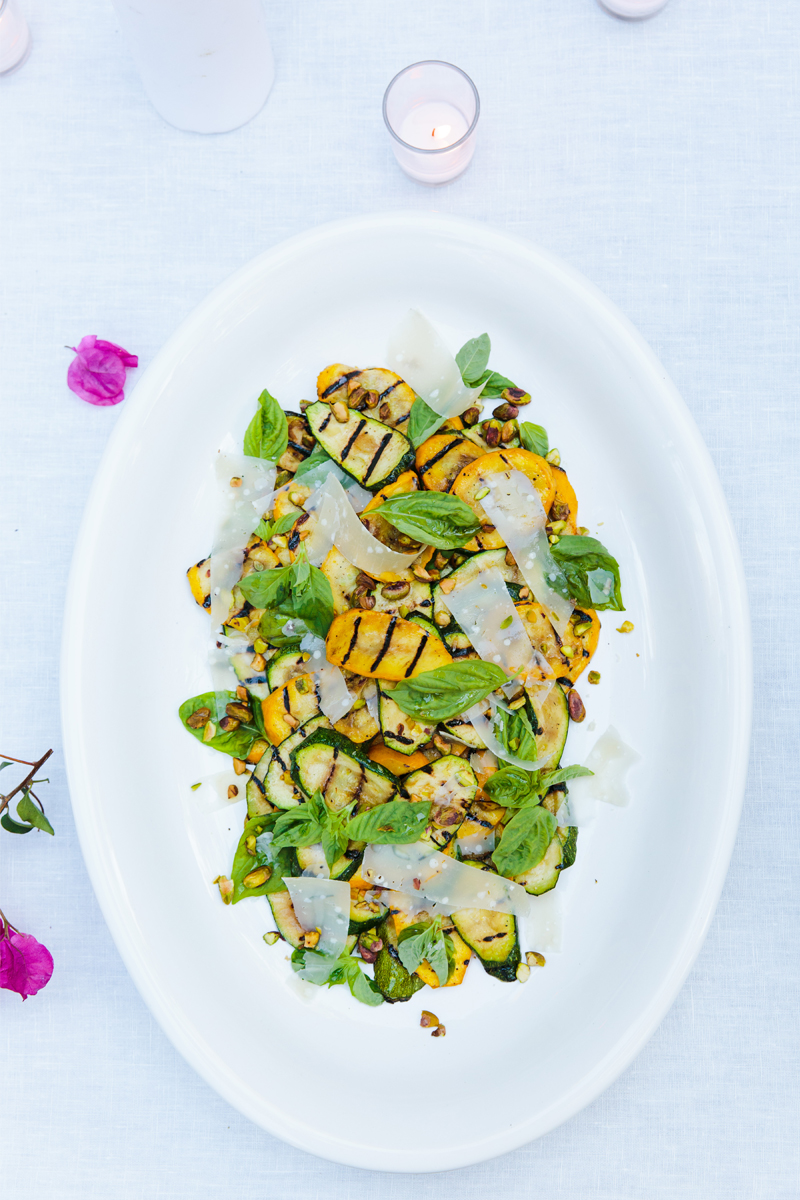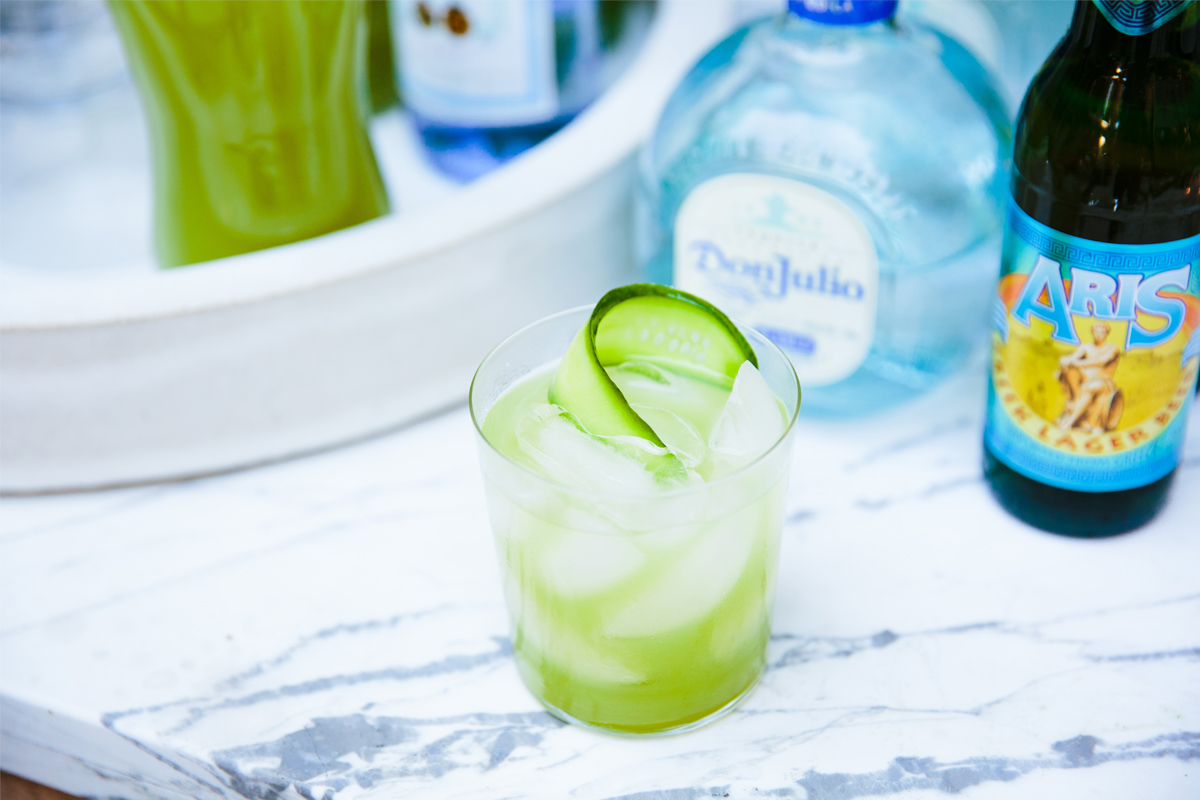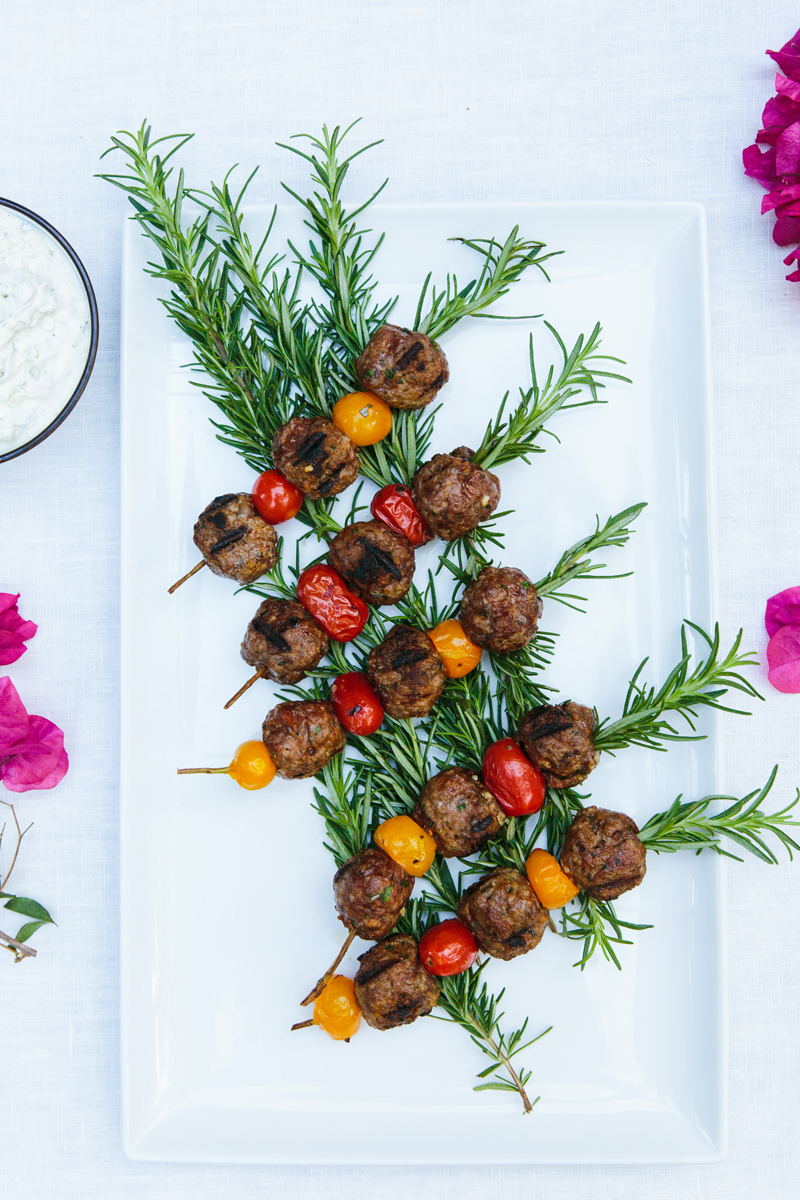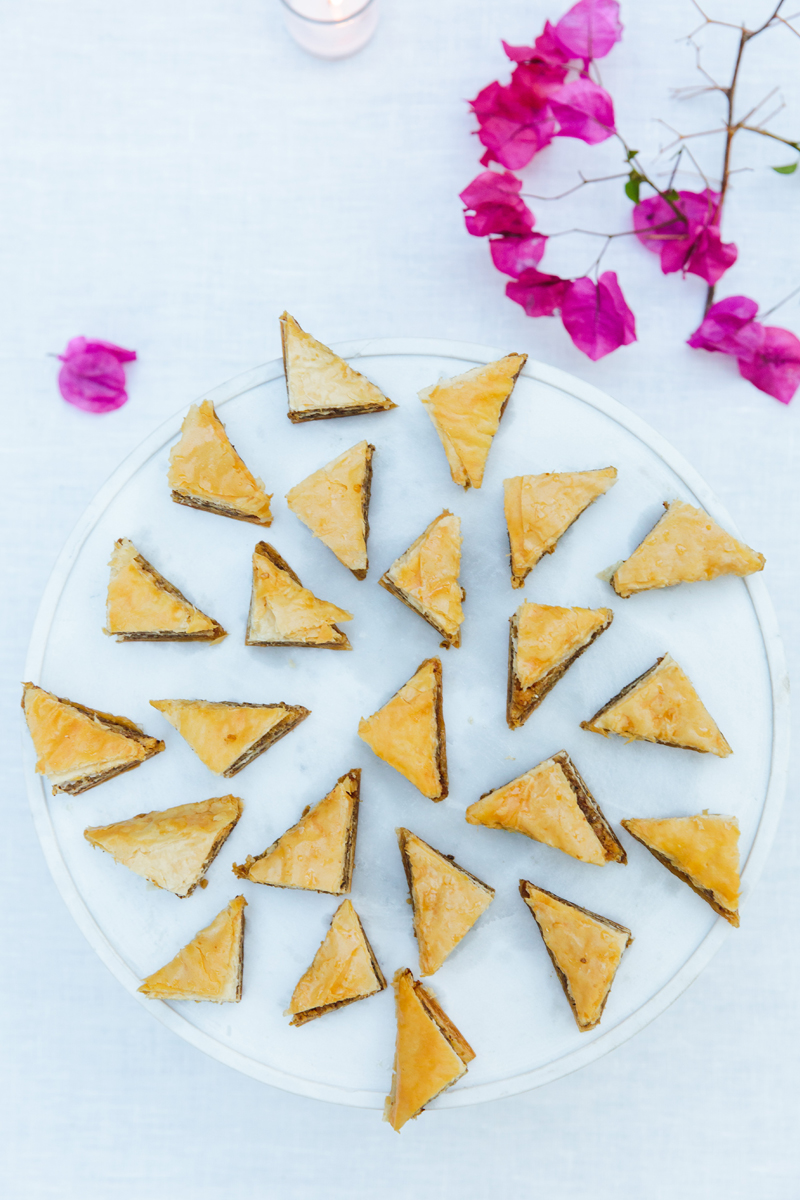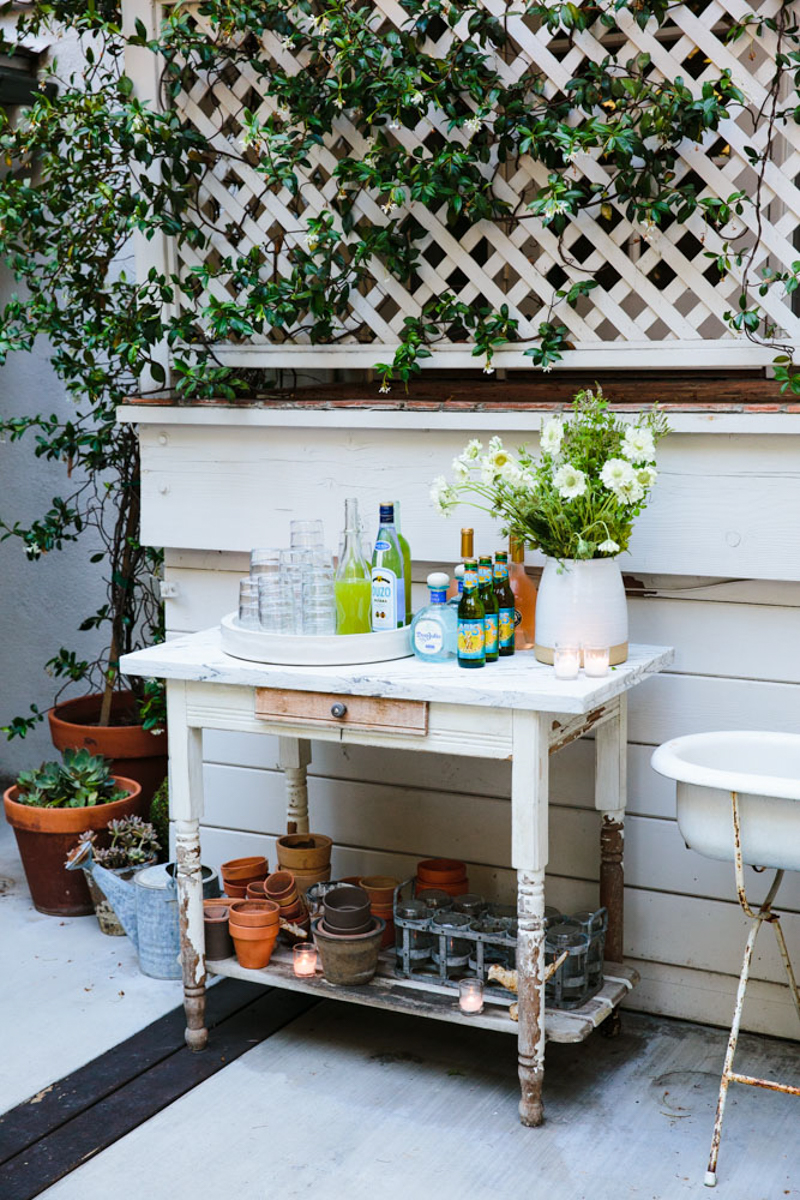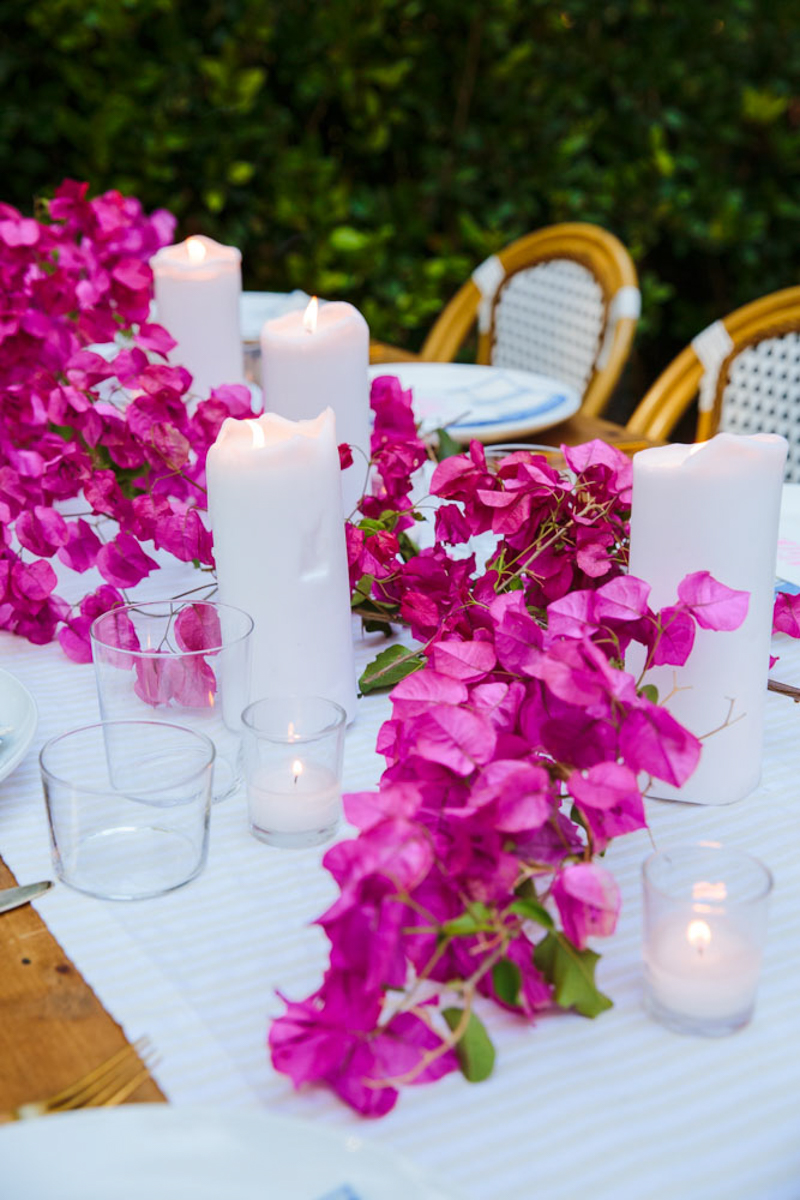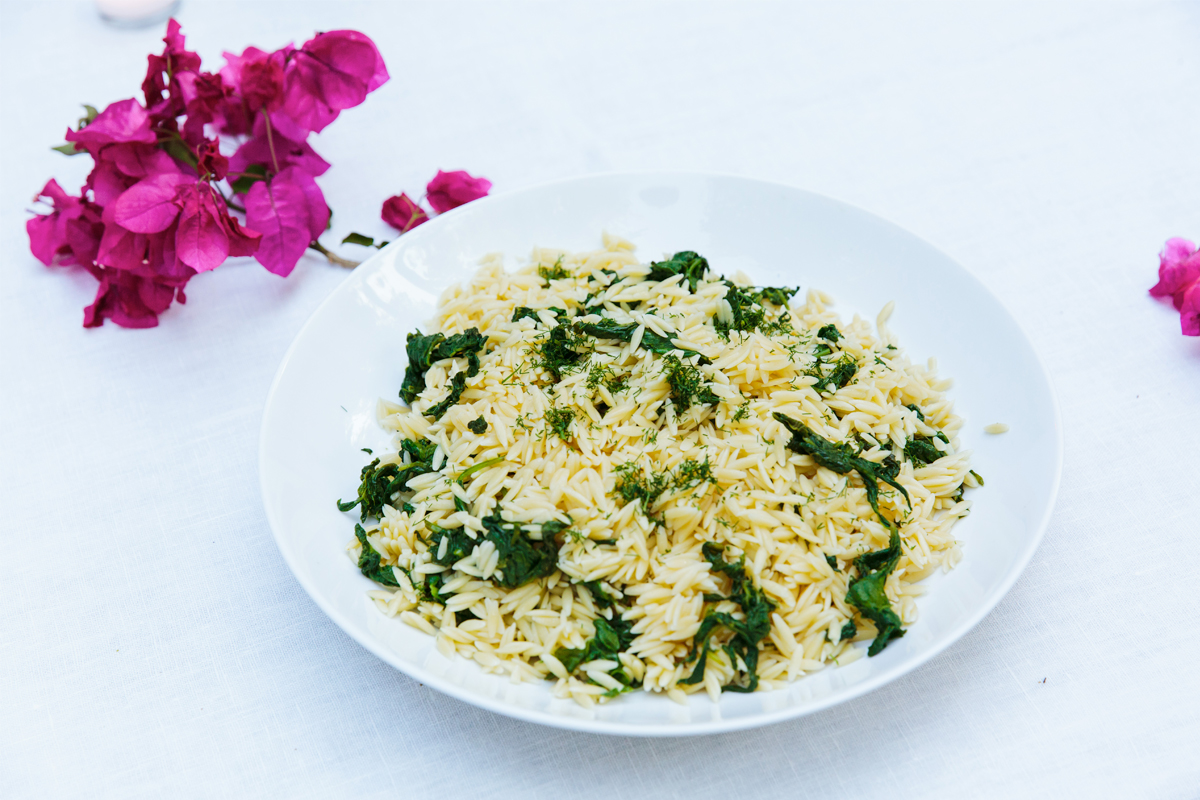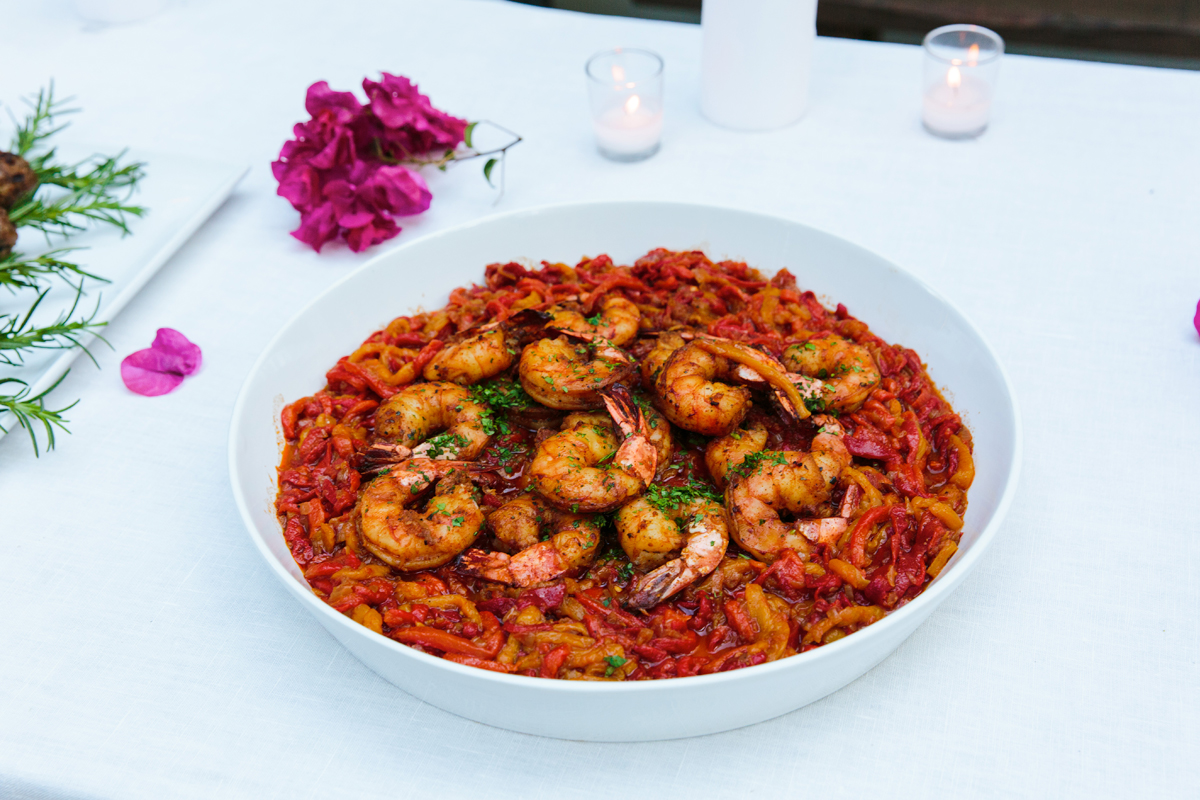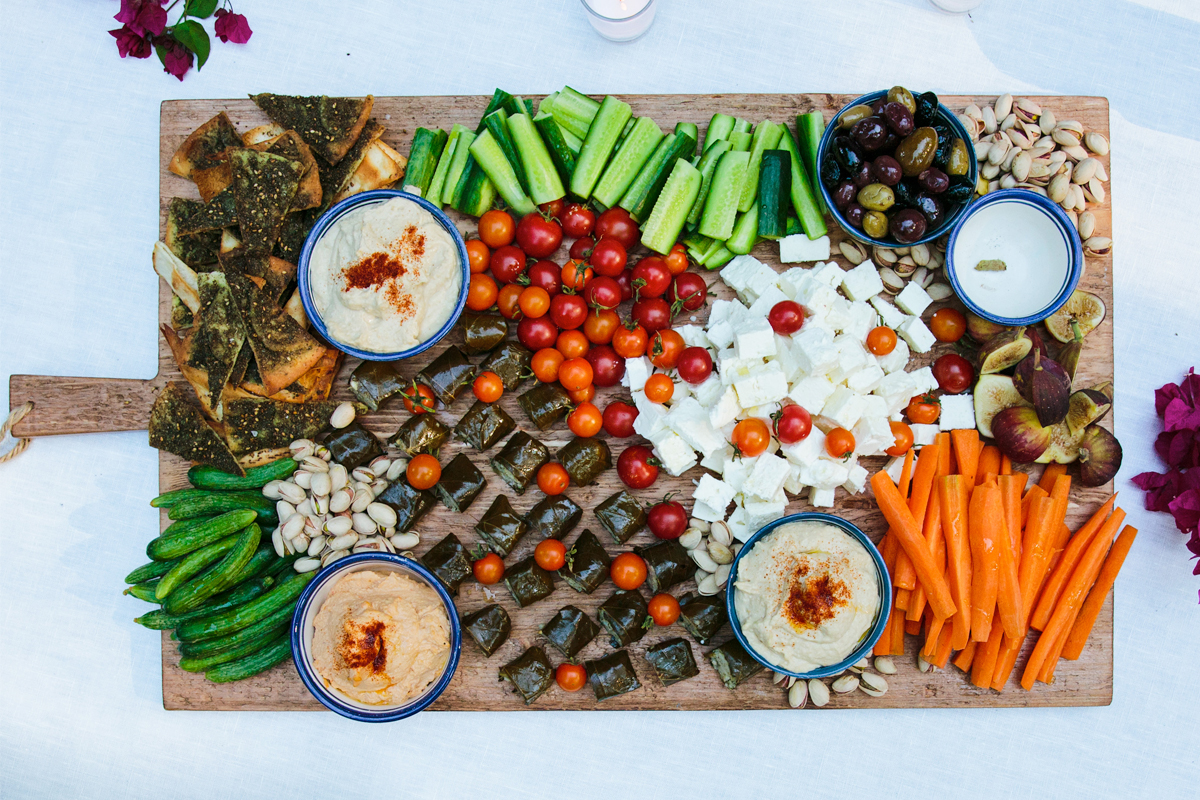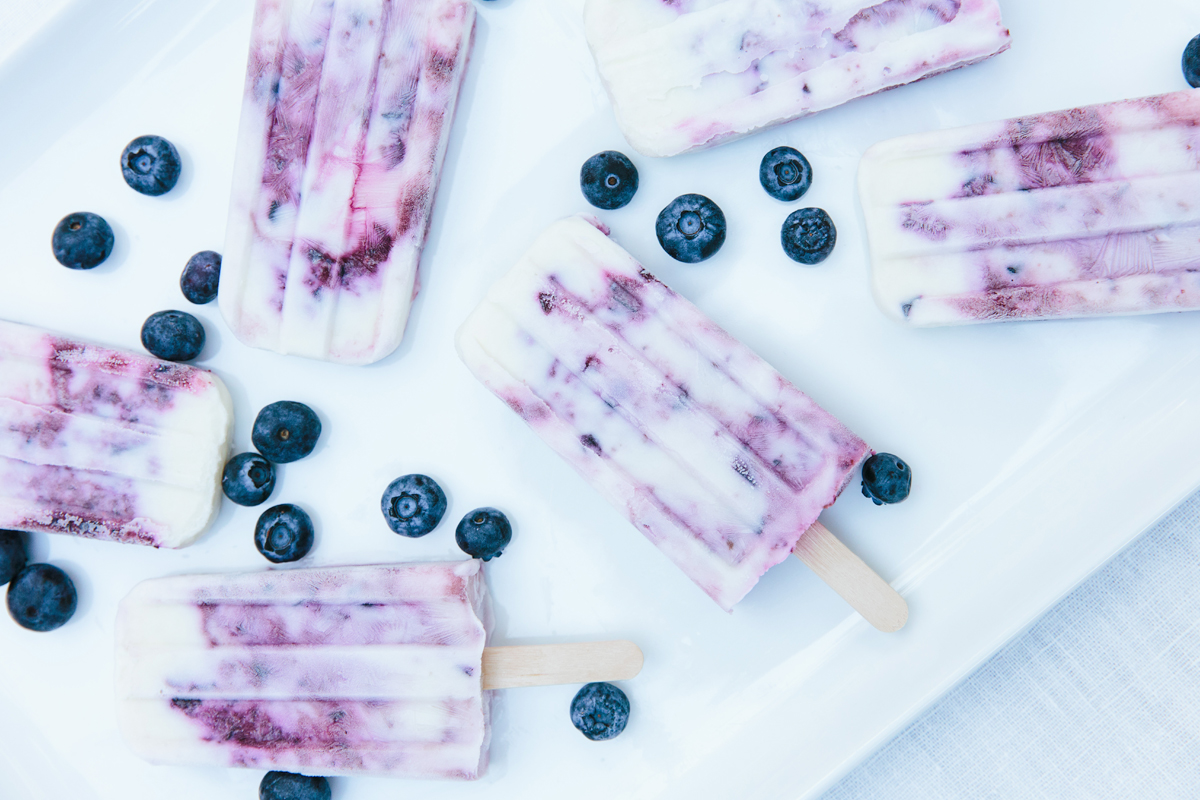 Honeydew Cucumber Margaritas
Recipe
Honeydew Cucumber Margaritas
Servings: 2 cocktails
Units:

Course: Drinks
Cuisine: Mediterranean, Mexican
Ingredients for the simple syrup:
1 cup

237 ml

sugar
1 cup water
Ingredients for the cocktail:
3 oz

85 g

blanco tequila

1.5 oz

43 g

honeydew juice

1 oz

28 g

cucumber juice

2 oz

57 g

fresh lime juice

1.5 oz

43 g

simple syrup
8 mint leaves (We love chocolate mint)
2 cucumber spears , for garnish
To make simple syrup:
Combine the sugar and water in a saucepan on the stove. Bring to a boil over medium-high heat and stir, dissolving the sugar into the water. Let cool. Can be refrigerated for up to a month.
To make honeydew and cucumber juices:
Remove the rind of the honeydew melon, cut into small pieces and juice them in a fruit/vegetable juicer. Strain the juice through a wire/mesh strainer to remove the pulp. If you don't have access to a juicer, you can blend the melon in a blender or food processor. Either way, make sure to strain out the pulp. Follow a similar method for the cucumber juice – but leave the skin on for color.
To make the cocktail:
Mix all ingredients together except the cucumber spears in a cocktail shaker with ice. Shake vigorously. Strain over fresh ice into two Old Fashioned glasses. Garnish with cucumber spears