Food & Drink
A Savory Beet and Feta Quiche for Valentine's Day
Like many people, I get excited about holidays and special occasions. But my approach tends to be fairly subtle. I enjoy coming up with ways to put a refined spin on celebrations, whether it's through florals, drinks or decor. So for Valentine's Day, while I may incorporate some of the traditional feminine themes, I prefer to mix them up with unexpected details. This Beet and Feta Valentine's Day Quiche fits the bill perfectly. The beets lend the dish that romantic crimson color, yet it's savory and a bit earthy, as opposed to whimsical and sweet. Enjoy making it for your loved one! XXJKE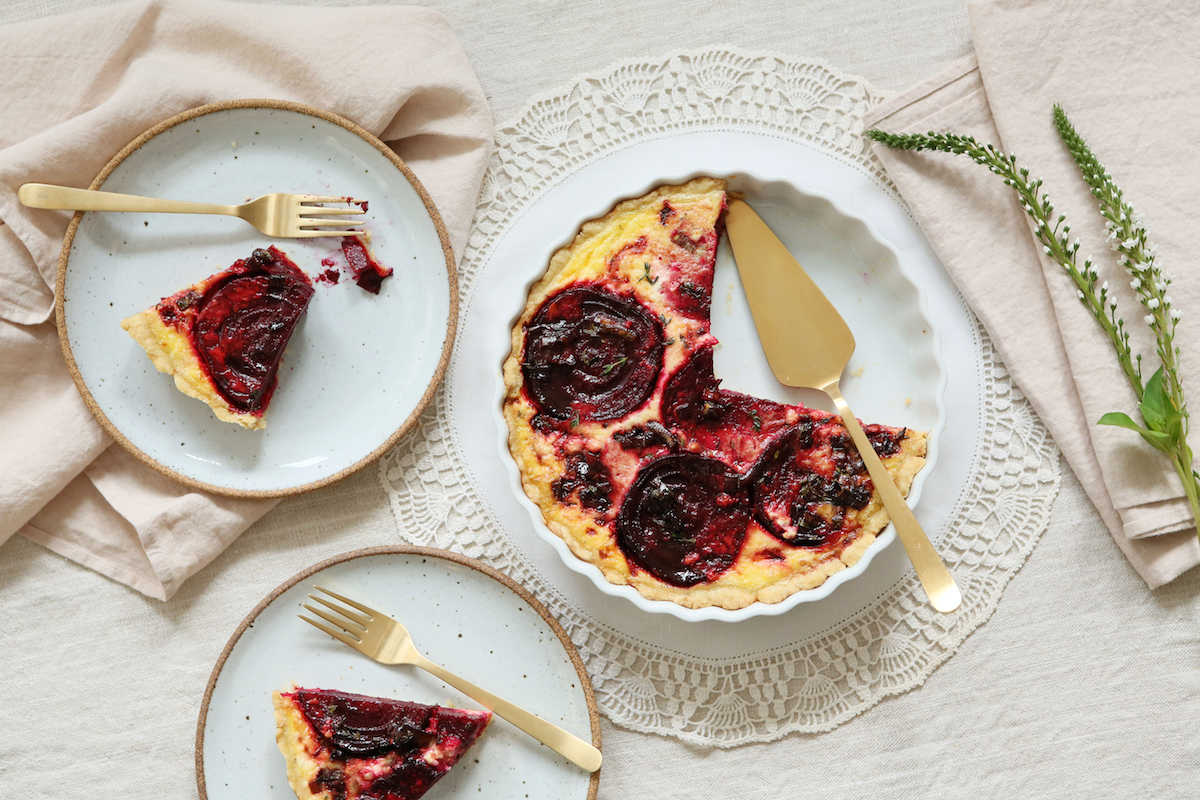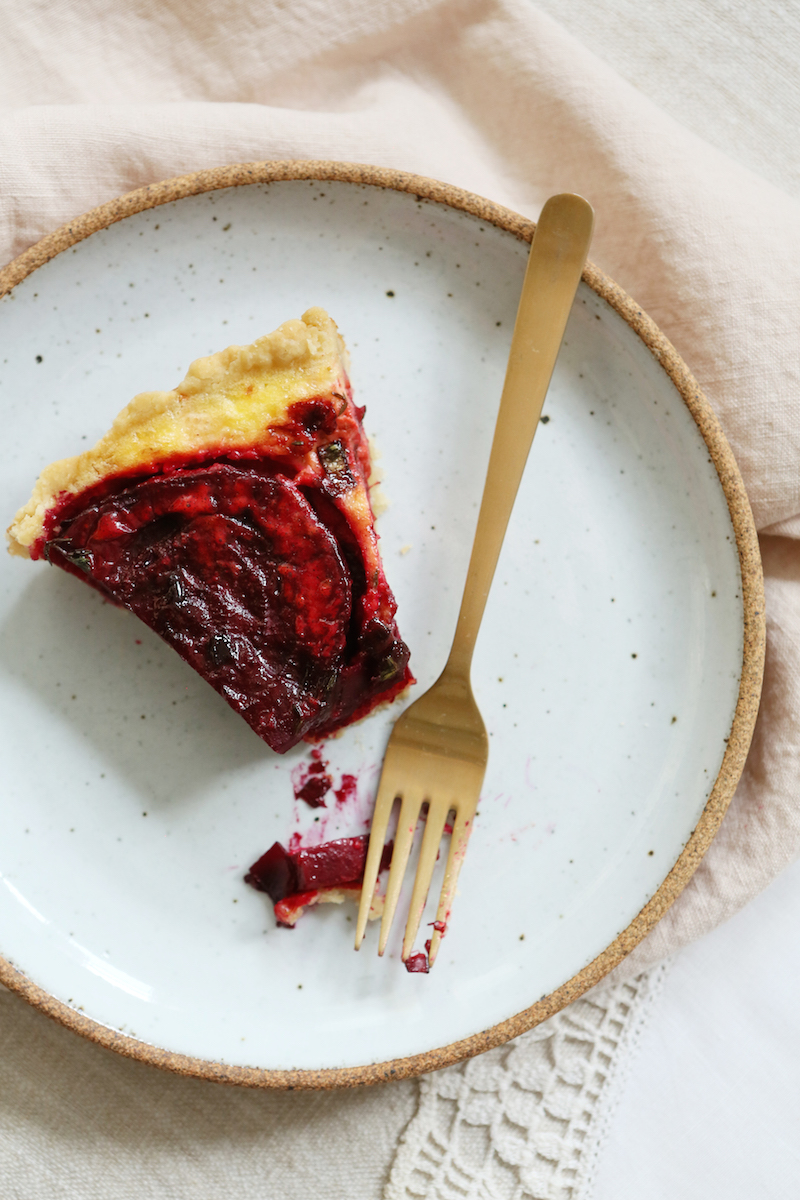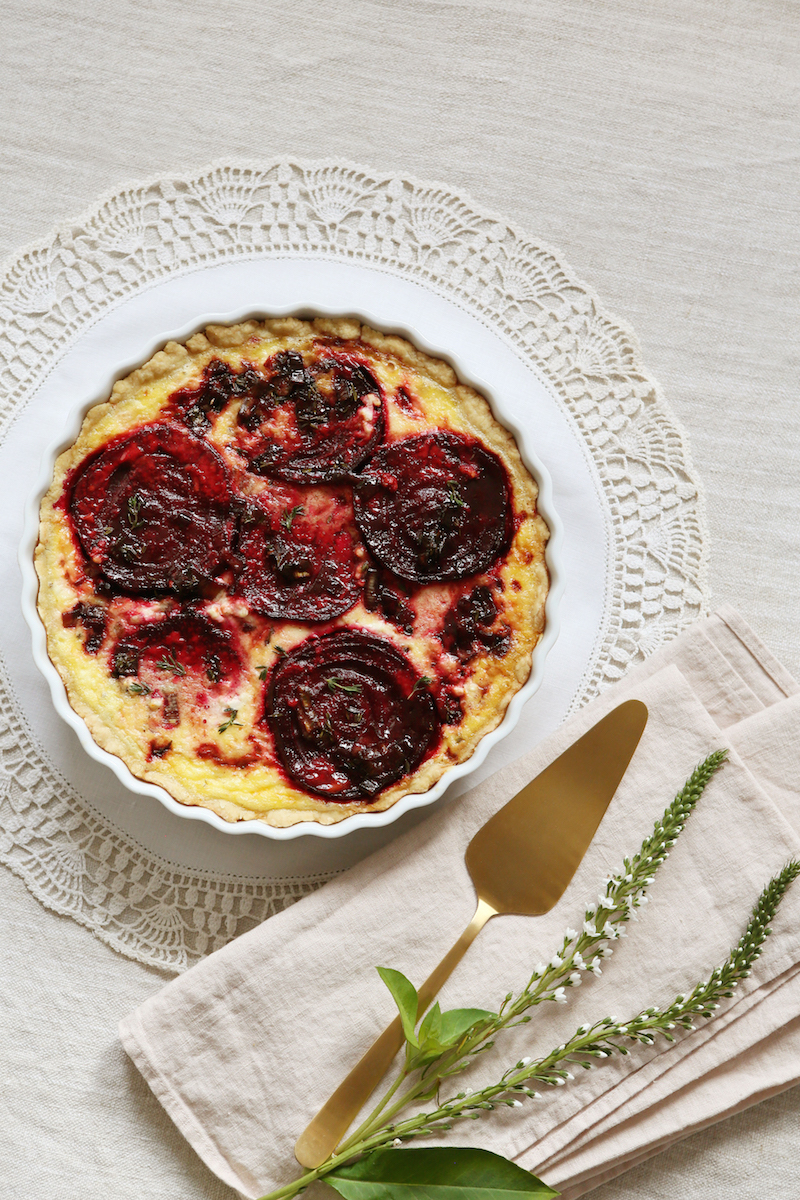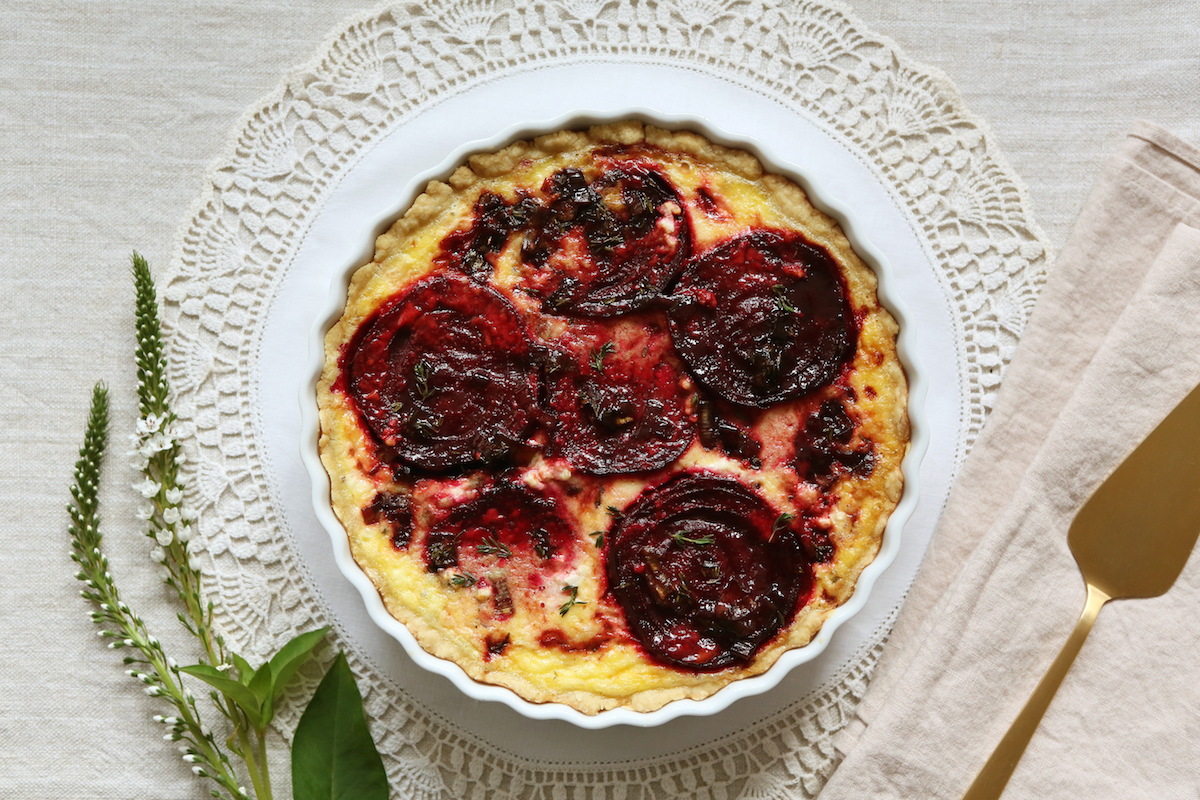 Recipe
Beet and Feta Quiche
Ingredients for the Ingredients for Basic Dough:
1 1/4 cup

296 ml

unbleached all-purpose flour
1/4 teaspoon salt
1 stick cold unsalted butter cut into 1/4-inch cubes
3 tablespoons very cold water
Ingredients for the Ingredients for Filling:
2 large beets
1 large leek sliced into 1/2 inch pieces
2 tablespoons olive oil
1 teaspoon salt

1/4 cup

59 ml

white balsamic vinegar
1 tablespoon honey
2 tablespoons thyme leaves

1/2 cup

118 ml

crumbled feta
2 eggs

3/4 cup

177 ml

cream
pinch salt
pinch pepper
In a large bowl, stir together the flour and salt. Using a pastry cutter, cut the butter into the flour mixture until the texture resembles coarse cornmeal. Butter pieces should be no larger than small peas. Add the water and mix just until the dough pulls together.
Transfer the dough to a work surface, pat into a ball and flatten into a disk. Lightly flour a work surface then flatten the disk with a rolling pin. Roll out into a round at least an inch larger than your 9inch tart pan then transfer to pan.
Preheat oven to 350 F. Place a piece of parchment paper over crust and cover with pie weights, uncooked beans or rice. Bake for 10 minutes. Remove the parchment paper and weights and return to the oven for 6 minutes.
Remove stems from beets and scrub under cold water. Bring a pot of water to a boil then lower to a simmer. Place beets in the pot and cook until tender about 40 minutes (depending on the size of your beets.) Once tender, remove beets and place under cold water. With a paper towel, peel the skin off and slice thinly.
Heat the olive oil in a saucepan over medium low heat. Add in leeks and cook until softened. Add in sliced beets, vinegar, thyme, and honey. Season with salt and reduce heat to low. Cook for about 10-15 minutes, until the sauce begins to thicken.
Pour beet mixture over tart and crumble feta cheese on top. Whisk eggs and cream together. Pour the egg mixture over the tart. Make sure you have some beets visible through the egg mixture to achieve the marbled red. Bake for 35-40 minutes.