Food & Drink
Andrea Bemis's Crispy Smashed Potatoes with Herbed Yogurt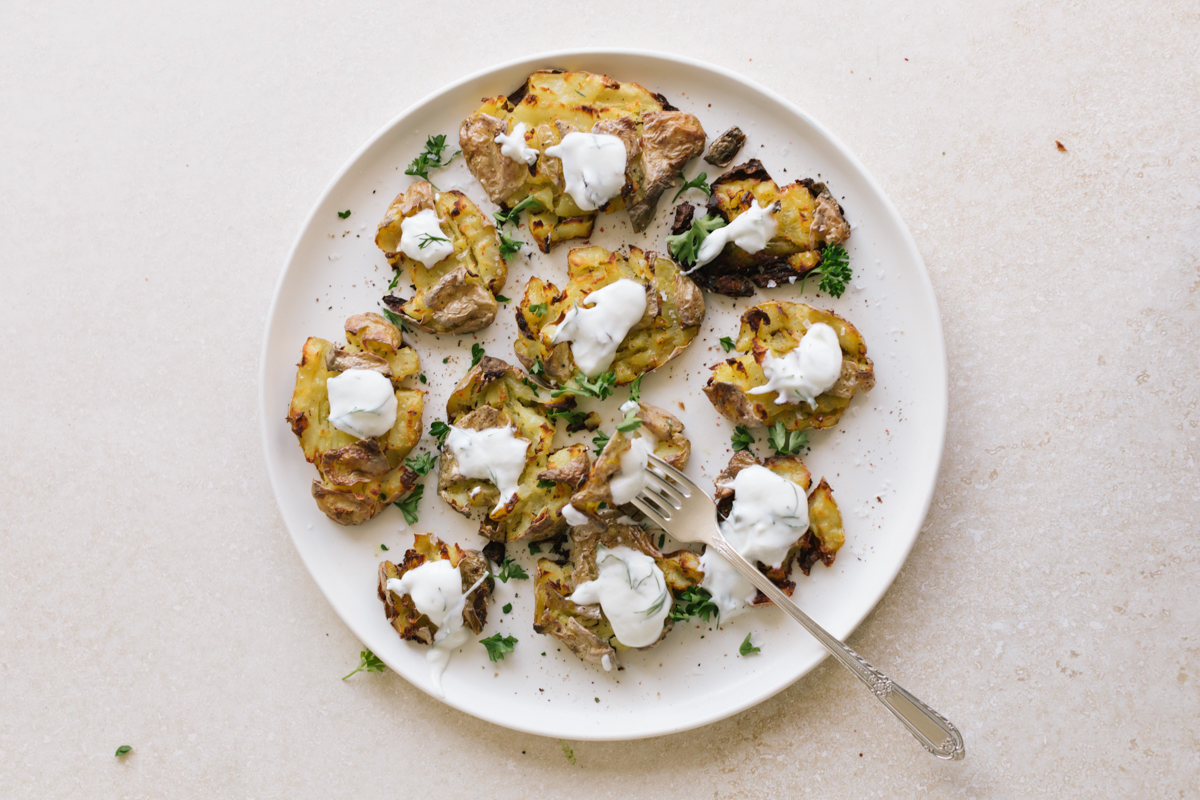 This potato side dish is everything a busy home cook wants in a recipe: it's simple to make, looks great on the plate, and is a total crowd-pleaser (even with the little ones). I found it in farmer-turned-foodie Andrea Bemis's new seasonal cookbook "Dishing Up the Dirt" and knew it would be one of those recipes I'd turn to often. Simply boil, smash, and roast a few pounds of small Yukon gold potatoes. While they're cooking you can prepare Andrea's sauce to pour over top. Made with full-fat yogurt, herbs, lemon, and garlic it's a healthful and flavorful way to dress up humble potatoes, and isn't too heavy for a hot summer night either. Make extra sauce and drizzle it over everything from salmon and eggs to a salad or grain bowl over the next couple of days. Enjoy! XXJKE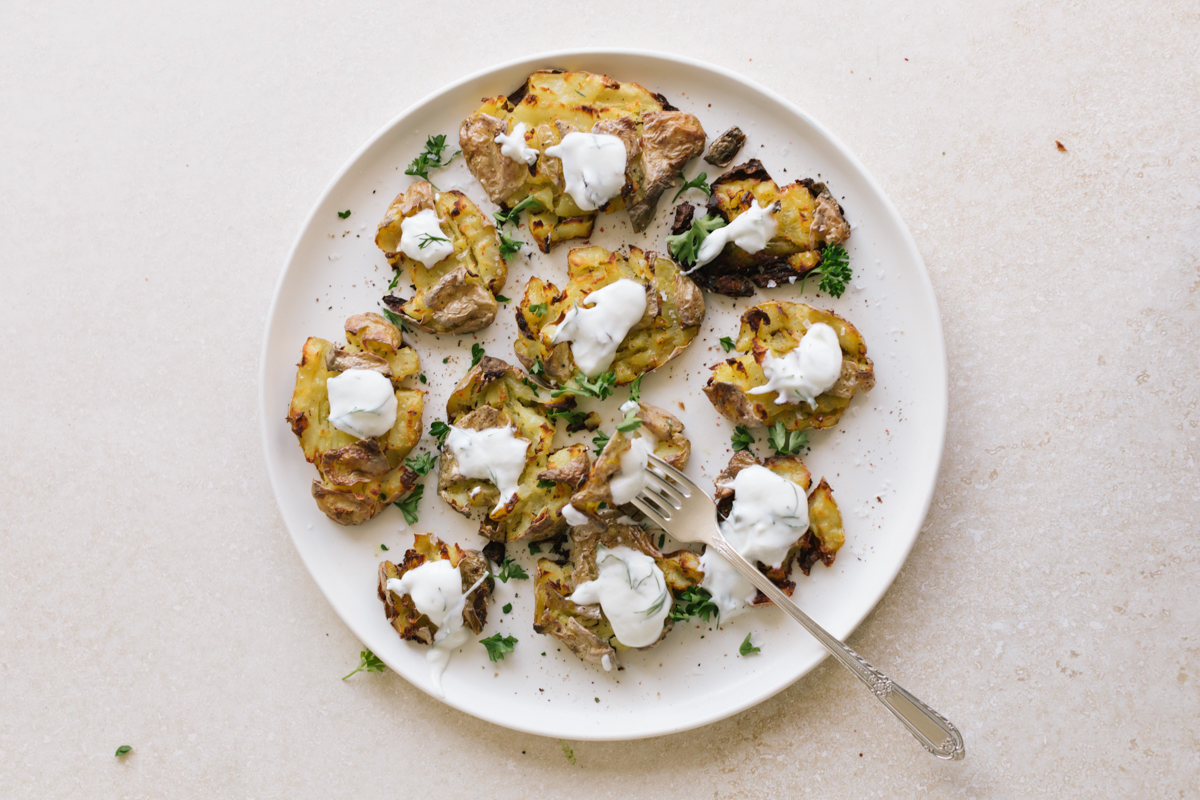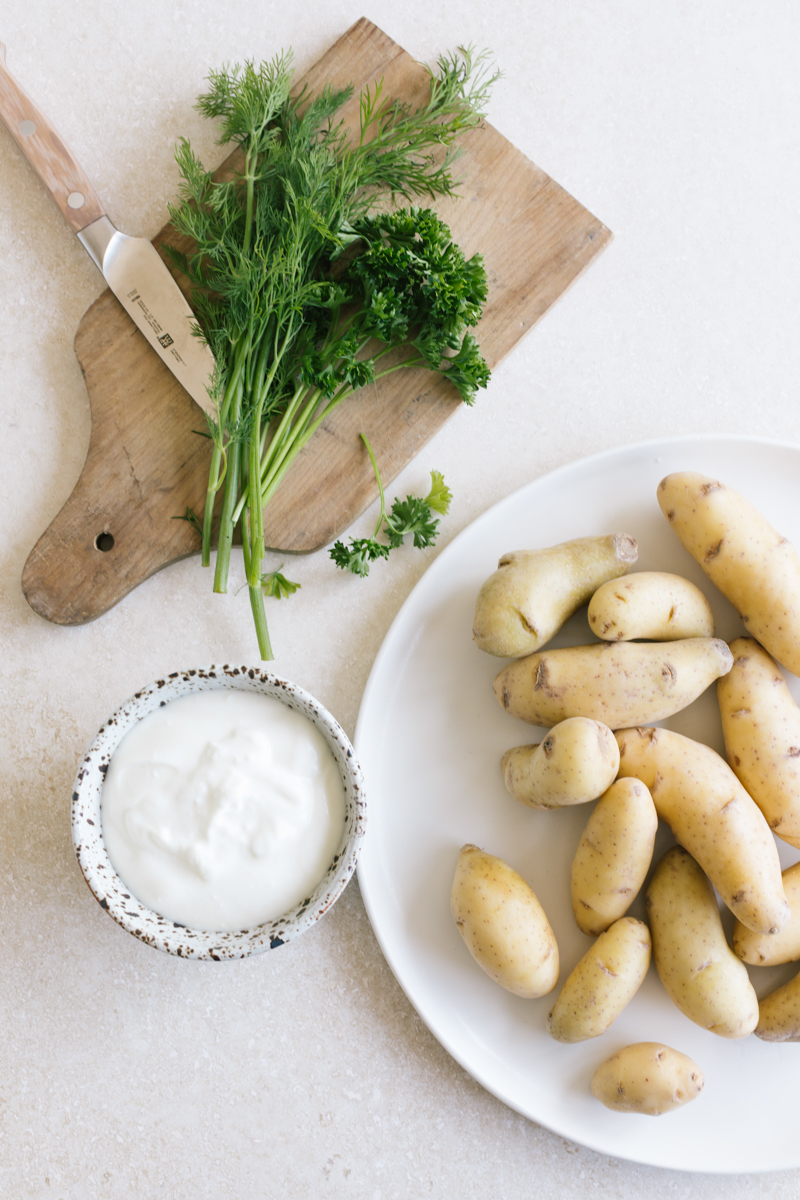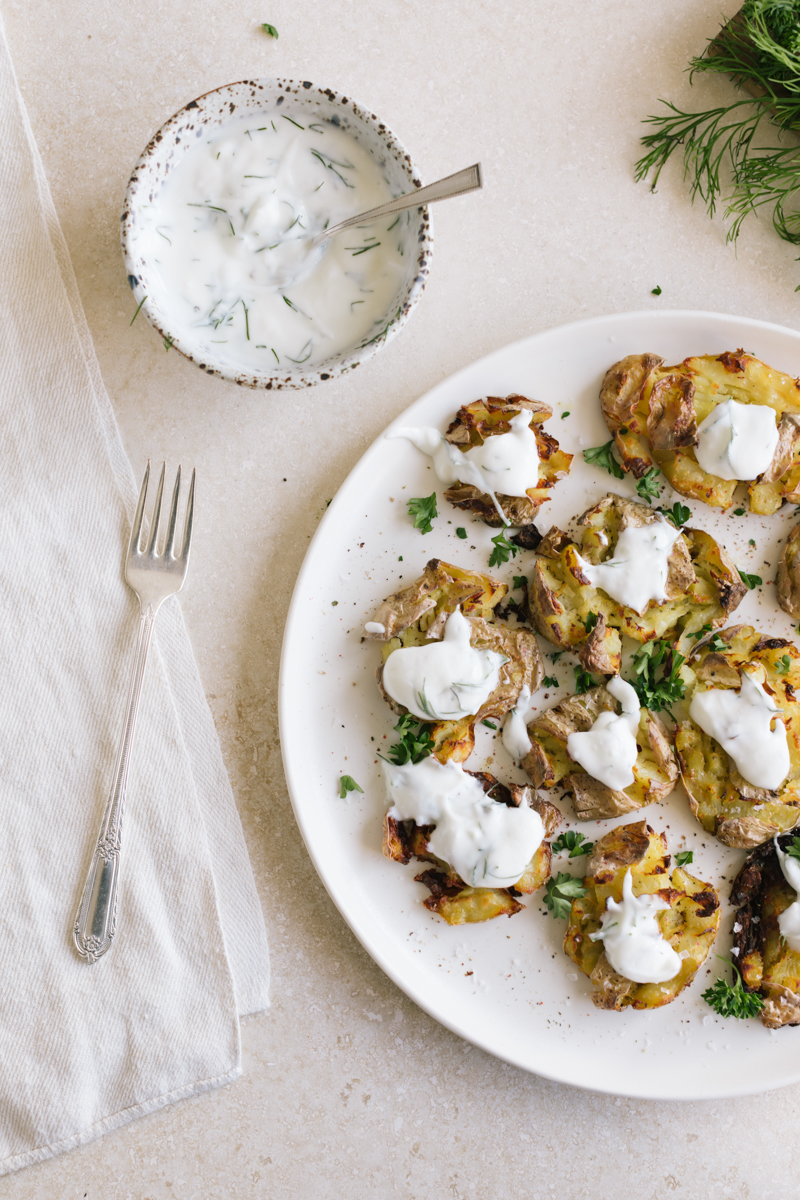 Crispy Smashed Potatoes with Herbed Yogurt
Recipe
Crispy Smashed Potatoes with Herbed Yogurt
Servings: Serves 4 to 6
Units:

Course: Sides
Cuisine: American
Ingredients
2 1/2 lb

1 1/8 kg

small Yukon gold potatoes or any waxy potato

1 cup

237 ml

plain full-fat yogurt (I like to use goat's milk yogurt)
2 tablespoons minced dill
2 tablespoons minced parsley
1 large clove of garlic minced
1 teaspoon fresh lemon juice (and 1/2 teaspoon grated lemon zest)
1/2 teaspoon honey
2 tablespoons extra-virgin olive oil
1 pinch freshly ground black pepper
Preheat the oven to 450 degrees. Line a baking sheet with parchment paper.
Place the potatoes in a large pot and cover them with water. Sprinkle a few pinches of salt into the pot and bring it to a boil over high heat. Reduce the heat to medium-low and simmer for 10-12 minutes or until the potatoes are tender (but not falling apart). Test the potatoes by inserting a knife into the center.
While the potatoes cook, prepare the yogurt sauce. In a small bowl, combine the yogurt, dill, parsley, garlic, lemon juice, honey, oil, and a healthy pinch each of salt and pepper; whisk until the mixture is smooth. Taste and adjust seasonings as needed.
Drain the potatoes in a coriander and let them cool for 8 to 10 minutes. Spread the potatoes out over the baking sheet and use a spatula to lightly press down on each one until it is mostly flattened. Some may fall apart a bit, but that's okay!
Drizzle each potato with a teaspoon or so of olive oil and roast for 30 minutes or until they are golden brown and crisp on the bottom. The timing will vary depending on the size and variety of your potatoes.
Serve them with the garlic herb yogurt sauce and a sprinkling of chopped herbs.