Living
Daphne Oz is Redefining Modern Motherhood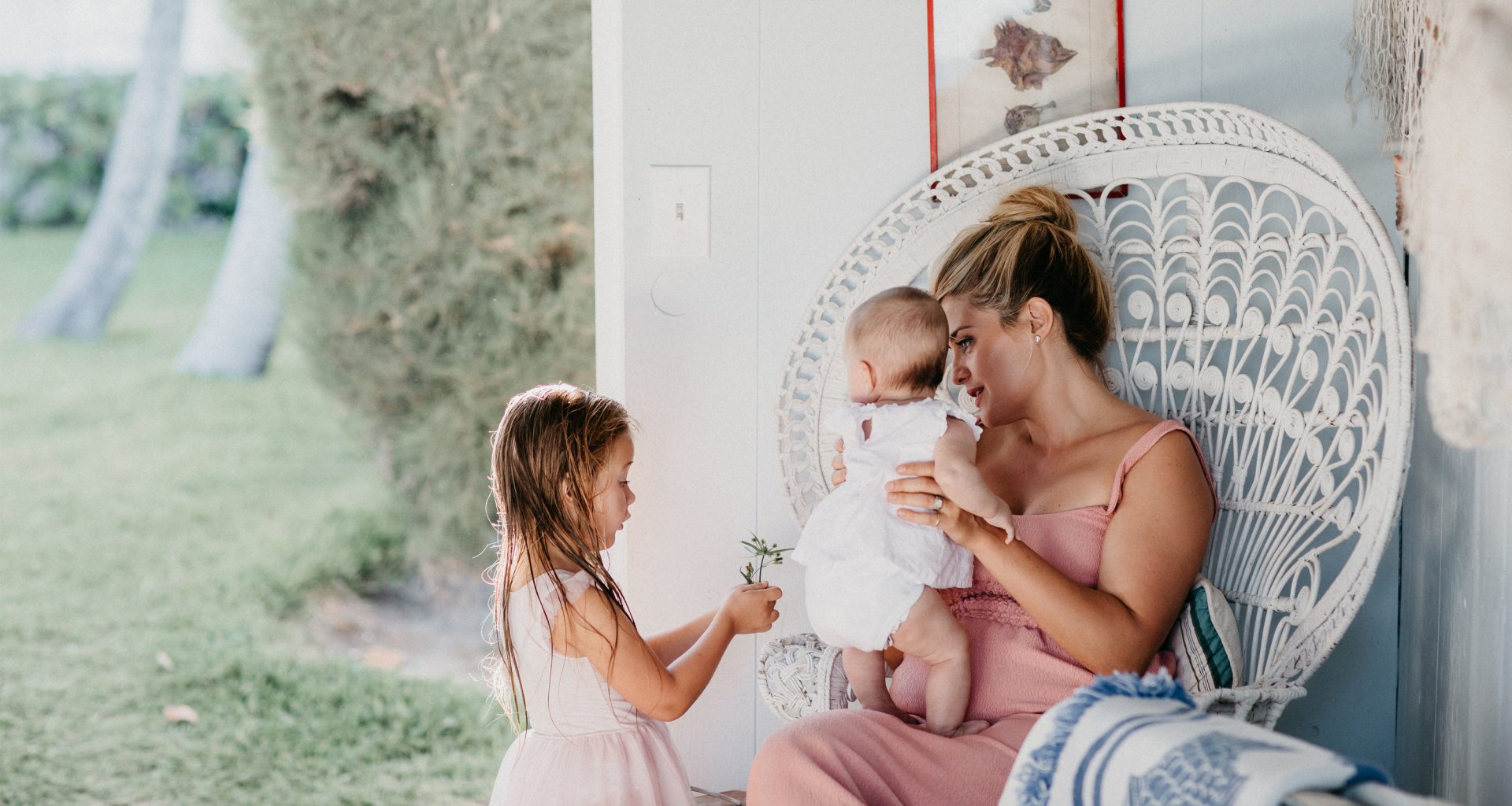 Daphne Oz has been blazing her own healthy-minded trail since her dorm room days, when she introduced wholesome eating to college campuses everywhere. As a mother of three, she encapsulates our idea of the well-balanced woman in more ways than one: she loves false lashes but feels best in a caftan, even though, in her words, it's the equivalent of "basically wearing a sheet." We sat down with Daphne to take in the summer's rays—and to talk raising healthy kids and being present through it all.
Rip & Tan: Tell us about your career trajectory and how your professional life has changed since having children.

Daphne Oz: I wrote my first book, The Dorm Room Diet, in college, and I began hosting my first television show at 25. The years up until having children were marked by an incredible opportunity to learn from the best in the business while making a daily talk show centered around food and also to just enjoy being married to my best friend. During this time, I wrote my book Relish, about wanting to take full advantage of the opportunities I had to curate a life that was full of delicious food, beautiful style, and everyday fun.

Then we had our first baby, Philomena! Becoming a mom means meeting your baby and a new version of yourself in the same moment. This upgraded you has bits and pieces of the old model—we still love some if not all of the things we used to before we had kids. But our priorities are reshuffled. Time is even more precious. And you've never wanted to do something right and well so much as motherhood so the pressure is high. But the reward is priceless. That experience of new motherhood and wanting to hold on to my love of cooking and refining my meals so they are celebratory and healthy but also super easy led to my most recent book, The Happy Cook. The experience of losing the baby weight and getting back to a place where I feel strongest in my skin is the inspiration for my next book, out in 2019!

Three babies in, being a mom is front and center as I evaluate any career or investment opportunity. It informs all my decisions. It changes how I think about success, trade-offs and balance, and what I say yes or no to. But it also gives me perspective and expertise that I love to share through my work on TV, through my books and public speaking, or on my website and social channels. Parenting is something you'll never feel you've 100% mastered—I am always learning, asking questions, looking for examples, and redefining what it means to be a good mother in my mind. That drive to be better ourselves and raise happy kids is incredibly grounding and connecting.

Rip & Tan: What were the most notable differences being pregnant with your third child versus your first two pregnancies?

Daphne Oz: I love being pregnant. I've been lucky to have fairly easy pregnancies, but they have all been different. My first pregnancy, I really invested in the rituals of prenatal self-care, which was obviously a lot of fun. Plus, everything is new, so you're just on the edge of your seat discovering each new stage. My second pregnancy was exhausting because I was chasing a one-year-old around. But by our third, the oldest two were entertaining each other so I really just got to enjoy them and it made my pregnancy fly by until the final month. The third time around, your veins and ligaments are all stretched out, so I ended up with some vascular issues and swollen legs. I had a really hard time sleeping. And then our sweet baby girl Domenica decided to wait until almost 41 weeks to be born, and I can tell you that extra week felt like an eternity. But now I miss those little kicks.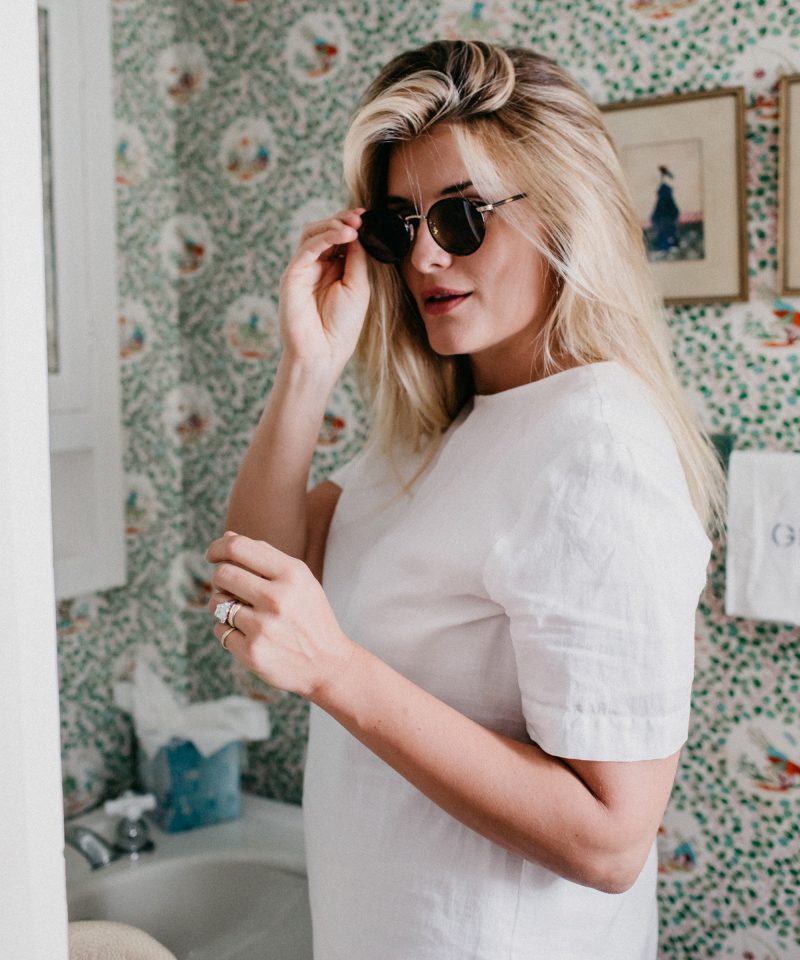 Rip & Tan: Do you have any tips for working moms looking to balance their home and work lives?

Daphne Oz: If you want to be happy, you cannot do it all. It's not because you can't have it all. But when you try to do everything all at once, nothing gets done right or enjoyably. I feel like moms today feel obligated to our own needs and desires and also to the needs and desires of everyone around us, which is where we fall into the trap of always feeling inadequate. The difference between doing it all and having it all is a perspective shift.

The a-ha moment for me was seeing that every minute of my day was spent feeling scattered and frazzled and irritated by the demands on my time because I knew I would ultimately fail at crossing everything off my to-do list. I realized that I could change my to-do list (or change people's ability to add to it) and ultimately change how I felt the entirety of my day.

I didn't want to be the mom that spent all my time at work, worrying that I was missing precious moments with my kids I would never get back. I didn't want to waste time at home with my kids worrying I was missing career opportunities. The only way you can really sink in and excel in either (or both!) of those roles is if you cut back on feeling like you're obligated to do anything other than the one thing you are doing at that moment. Everything has a time cost associated with it. Having a strong and flexible sense of my own priorities has been my greatest tool when it comes to juggling home and work.

Rip & Tan: Before becoming a mom, did you have any beliefs about pregnancy or motherhood that proved to be untrue once you had your own experience?

Daphne Oz: Ha, almost everything. The crazy part about motherhood is no one can accurately describe the exquisite highs or the devastating lows to you. It's so subjective and unique. I remember feeling like motherhood and the love that comes with it was some golden ticket into a secret club I never new existed. I also remember being furious that no one had been straight with me about some of the complicated bits—afterbirth, breastfeeding, too many hormones and too little sleep, trying to "bounce back." But at the same time, I feel I probably don't give friends of mine who are pregnant or thinking about getting pregnant the 411, because I want them to enjoy the journey with as little worrying as possible, and also because I know their experience will be different from what mine was, for better or for worse. It's the kind of thing no one can really warn you about. You just take the jump and know that every other mother has taken the same jump, and it was (probably) the best thing she ever did.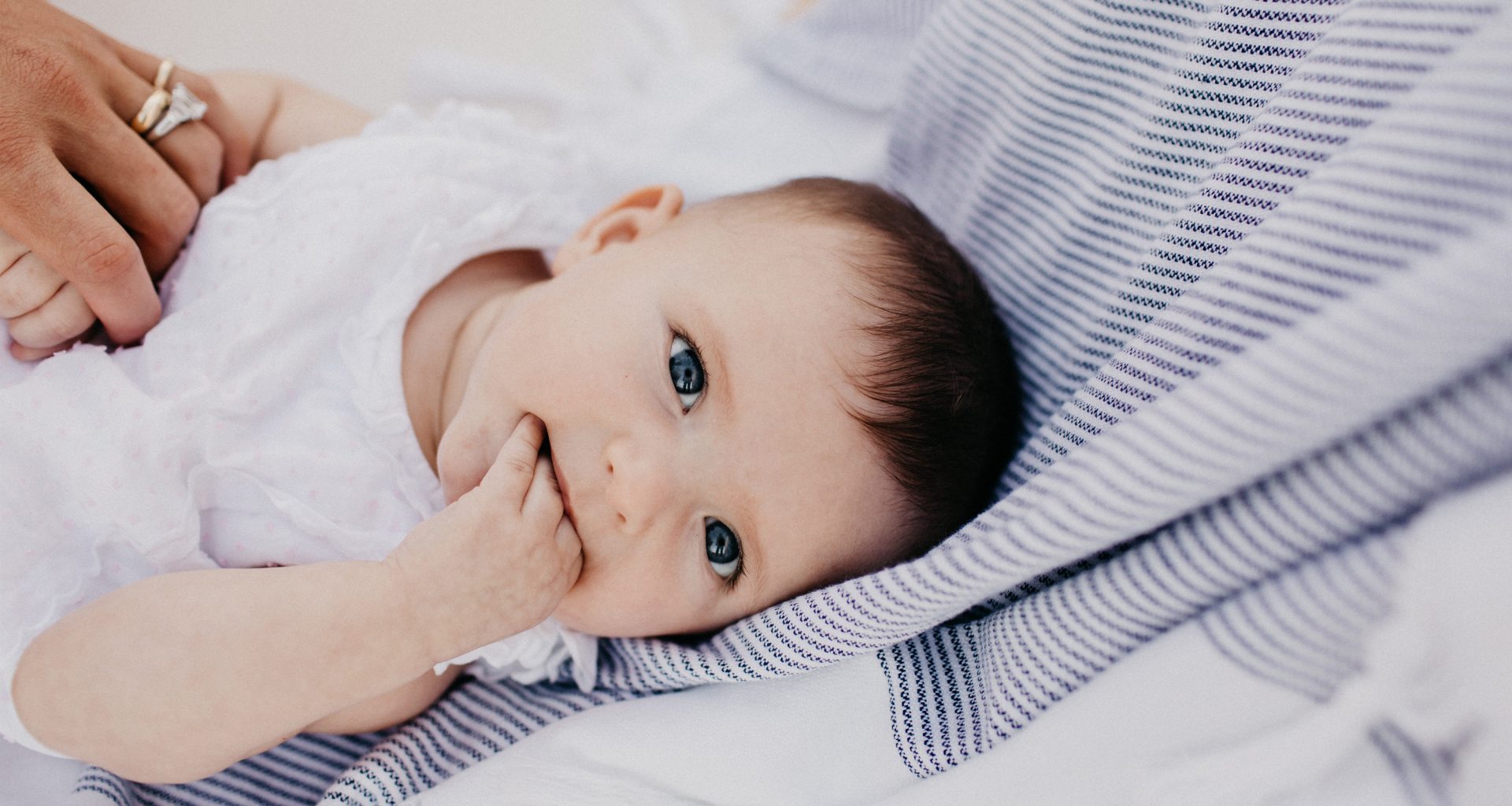 Rip & Tan: Any tips for a first-time mom to take the best care of themselves through the pre-natal and post-natal stages?

Daphne Oz: I love the Metagenics prenatal packs and their Vitamin D supplement. I still got my hair highlighted once or twice after the first trimester. I would start most days with a smoothie as a nutrition insurance policy and because it was something easy to get down, especially in those early months of morning sickness—make sure it's loaded up with clean, non-GMO protein, fiber, a nice handful of greens and some fat (coconut milk, almond butter, avocado, etc). I invested in prenatal massages and they made a huge difference as I got later in my pregnancy to help with lymphatic drainage and achey muscles.

I also learned after my first that staying active helped me maintain energy and keep back pain and stiffness away—even just frequent walks every day. I would get on an elliptical and sweat a bit, or head to my favorite workout classes and modify them if I had to. After you give birth, get a belly binder that supports your back and core. Take advantage of your body's natural hormones to reshape and regain your midsection. And see if your insurance will cover post-natal care and/or pelvic floor rebuilding through pilates once your doctor gives you the go-ahead. It's so important to reengage and support these muscles right away and nobody really talks about it until there is a problem.

I also love Belabumbum nursing bras and a Medela hospital-grade breastpump. Invest in a pretty but comfortable and durable bathrobe—you want something that makes it easy to "get dressed" fast, and you'll be spending most days in the same sweats and bathrobe uniform for the first month, so make it something that makes you feel good.

Rip & Tan: How did you approach the decor to your nursery and children' rooms? 

Daphne Oz: I err on the side of soft—lots of muted tones, round edges, cozy fabrics. I also tend to be a little more old-fashioned for baby rooms (floral or stripe prints rather than complicated or busy patterns, neutrals instead of brights), and then I modernize with gold and other metallic accents. For my daughter Domenica, we went with pearls and shell pink, with a beaded shell chandelier, sheepskin rugs, and a velvety rocker for me. I like family artwork all over the walls: paintings and drawings Philomena and Jovan made for their baby sister, family pictures. It gives the kids a fun way to connect with their new sibling—they love to see their own little marks all over her room. Her bookshelf has as many of their things as hers, but I've filled it with cute woven baskets so everything can be kept tidy easily even if nothing is ever organized. One day I will actually have things where they are supposed to be.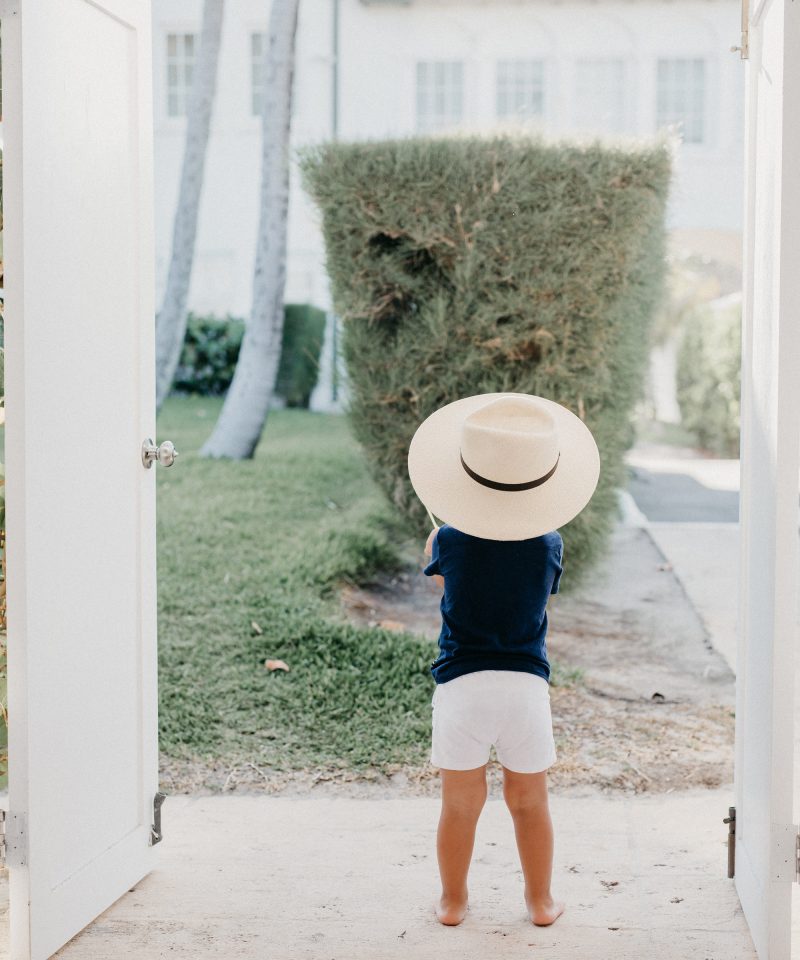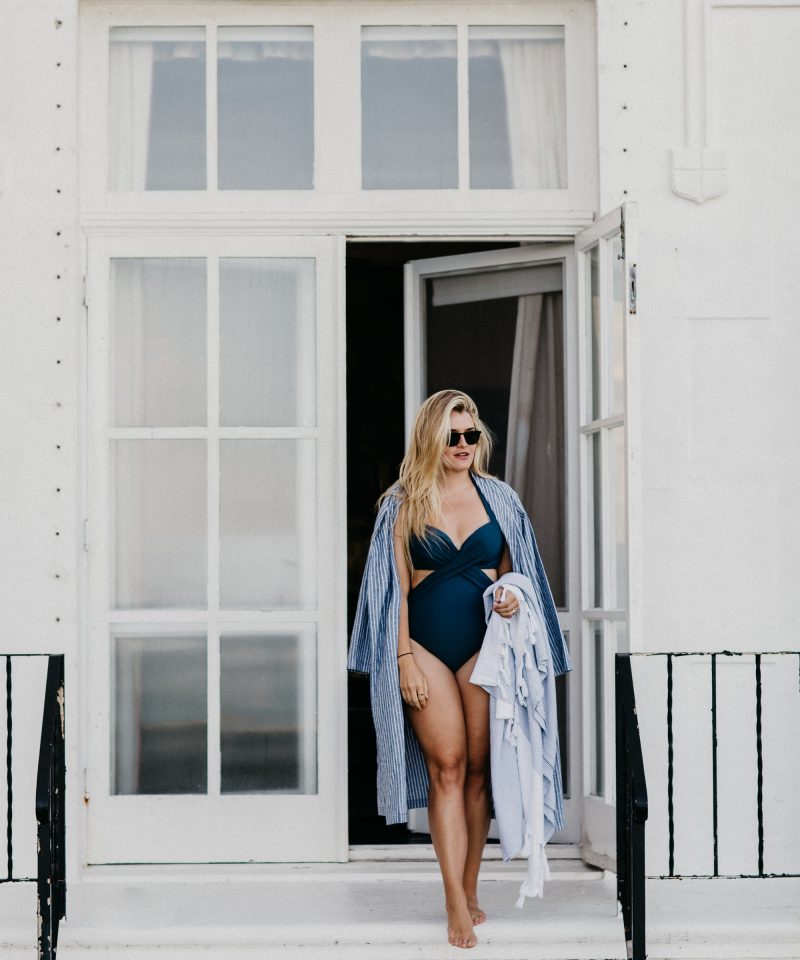 Rip & Tan: What are some of your skincare and makeup must-haves? How has your approach to beauty changed since becoming a mom?

Daphne Oz: I've always been something of a product junkie—my first job in high school was road-testing new beauty releases for ElleGirl—so I find I still buy a ton of new things, even just for the pleasure of having them in my bathroom. This is what happens to all the random face spritzs, bath soaks, and most of my masks, but every once in a while I do the whole at-home spa experience and it is magic.

The reality is I really only regularly have time for the most efficient, effective items now. I also am committed to clean beauty whenever possible, even more so when I'm pregnant or nursing. Your skin is your largest organ, so anything you're going to slather on regularly should only be feeding it the good stuff. I love the Dr. Hauschka, Tata Harper and Tracie Martyn lines. I am addicted to Joanna Vargas masks (not totally clean, but insanely good) before big photoshoots and I love a snail mask (I like the one from L.A. Pure)—it works wonders if you have dry, sensitive skin like I do.

In terms of makeup, I am a more-is-more fan when I know I'm going to be on TV or camera. I am obsessed with Chantecaille Future Skin foundation and mascara, and I use a lot of fake lashes. But my everyday, five-minute face routine is: moisturize, eye cream, curl lashes, apply mascara, give my cheeks a little glow and highlight with MAC Global Glow, then use a rosebud or plummy lipstick of choice, usually a dewy matte. I love Kjaer Weis in Sensuous Plum—it's wonderfully hydrating and perfect for dabbing on with your fingertip for busy days when you still want to look like you tried.

Rip & Tan: Do you have any favorite recipes for family friendly meals?

Daphne Oz: We make a lot of chicken and turkey meatballs that I add all kinds of vegetables into. Starting with the same base of sautéed onions and garlic in olive oil and ground chicken or turkey meat, add an egg or two, some breadcrumbs or grated cheese if using, and then any sautéed vegetable you like. We love chopped broccoli and cheddar, roasted spaghetti or butternut squash with parmesan, mashed pinto beans, shredded zucchini and fresh mint, even curried shredded carrots sautéed with golden raisins and pine nuts. My kids will eat them plain or over pasta, and I'll throw them in lettuce cups with fresh herbs and crumbled nuts or a tangy sauce for John and me. We also do roast salmon with honey-dijon glaze, or a roasted chicken with onions and sweet potato underneath so the full meal is done in one dish. I always have some vegetable option, either a crunchy salad or roasted carrots or cauliflower or broccoli rabe with garlic.
Rip & Tan: How has your personal style evolved since becoming a mother?

Daphne Oz: I have always prized comfort, but now I find I need to work a bit harder to pick an outfit that I think gives me shape and style even while being good to get down on the ground with the kids or be running from meeting to meeting. I rely heavily on a few choice statement pieces that can bring a generic jeans and white T-shirt combo to life (I love a long coat and amazing heels for this), a great sweater that won't pill, or a tailored blazer that can be layered over a summery dress to make it go from day to night. I'll never stop wanting feminine cuts that flaunt waists and legs and neckline. But again, with a few choice exceptions, my wardrobe has to be totally unfussy and durable.

Rip & Tan: If you could only wear one outfit every day, which pieces would you choose and why?

Daphne Oz: A caftan. They are timeless, feminine, elegant and effortless. And considering you're basically wearing a sheet, they're remarkably sexy. For nighttime, I love a mini dress or a long, off-the-shoulder one, a towering block heel and simple hoops.

Rip & Tan: What draws you to these Jenni Kayne pieces? Is it the fit, the feel, the color?

Daphne Oz: The cotton-linen blend of the Stanford cardigan is incredibly soft, and the perfect breathable layer for spring evenings. I also love how neutral it is—I'm a huge fan of monochrome outfits, but when it doubt, I aim for layered neutrals. The fit is loose but not baggy, which is an important distinction when it comes to feeling good in your skin but good in your clothes, too. I'm also loving the cotton fisherman sweater in ivory, it's always in my overnight bag for quick work trips. The Marina espadrille sneaker in camel and the salon slide sandal will be my spring and summer staples—I love simple but sophisticated flats, the better for chasing wild things around. And I live in my Garrett Leight sunglasses and can't wait to add the Hampton model to my collection.

Rip & Tan: How do these pieces work with your personal style and fit into your wardrobe?

Daphne Oz: The large saddle bag is the perfect size for storing all your bits and bobbles (and everyone else's, too), but not so overwhelming that you spend five precious minutes searching for your cell phone or your car keys. I love the sumptuous, saddle brown color—it goes so nicely with a tawny summer tan.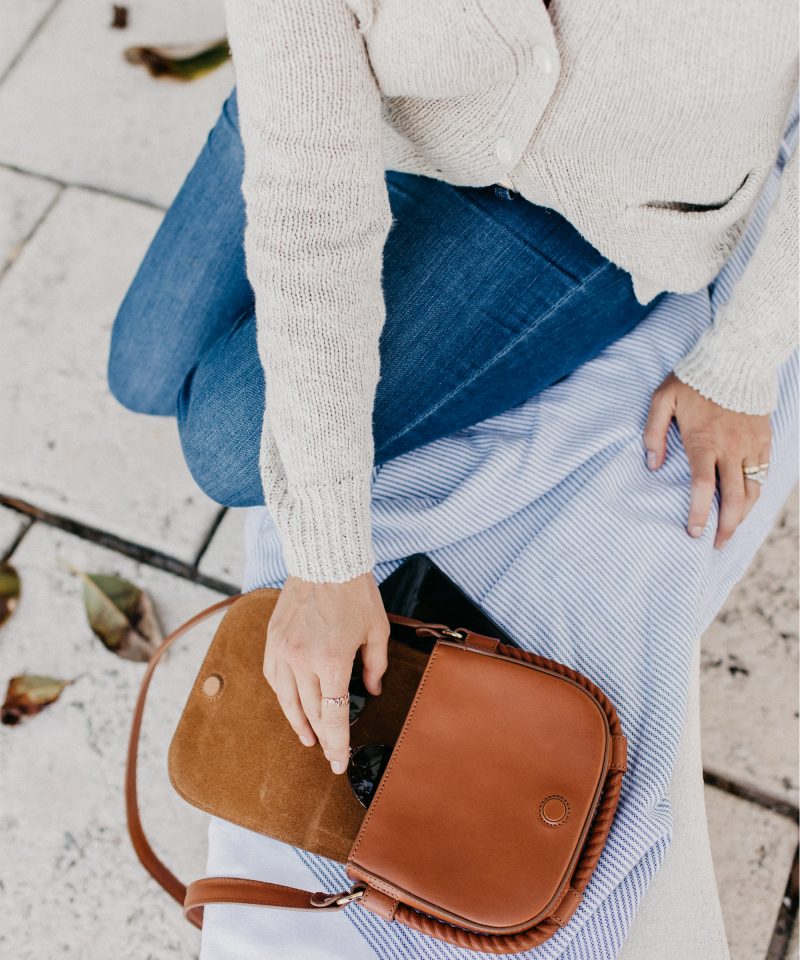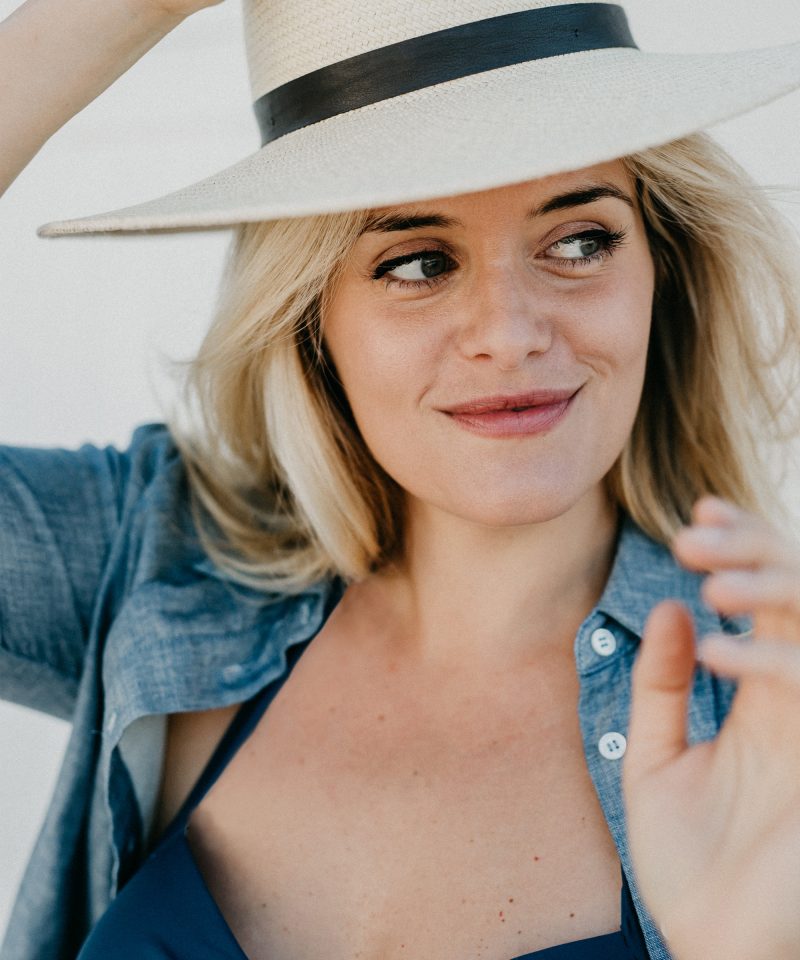 Rip & Tan: Do you have any styling tricks to looking polished and pulled together when you're short on time?

Daphne Oz: Throw a coat on top! Adding an outer layer always seems to finish a look. I also like more jewelry. I throw my hair up in a topknot, add a slick of brighter lipstick and extra mascara, and pray I look effortlessly casual. It's the sartorial equivalent of when chefs make the case that a dish is rustic, not burned.  Also, a high heel is an immediate upgrade to any outfit.

Rip & Tan: Do you have a favorite item or outfit that makes you feel the most like yourself? 

Daphne Oz: Ooooh…I love this one outfit that is high-waisted cigarette pants and a really structured blazer over a thin cashmere sweater. That is my go-to for business when I want to feel like the boss. Or, a matching dress and thin sweater for warmer days. I also love anything green!

Rip & Tan: Are there any trends you used to follow that you would never try now?

Daphne Oz: I never really got into them, but I sadly just cannot pull off wide-legged pants.

Rip & Tan: Think about a woman whose style you admire. What is it about her outfit or the way she presents herself that catches your eye?

Daphne Oz: I almost always notice how a woman carries herself before I notice her clothing. There's a lithe, graceful draping of clothes on women who have great posture—a strong core, shoulders pulled back, supple movements. It has nothing to do with size and usually nothing to do with style, either. I've seen women who make ball gowns look horrible and women who make pajama sets look like perfection. It's all about confidence, which is why a great wardrobe that works for you and makes you feel good in every piece is key. The better your clothes make you feel, the better you will wear them.

Rip & Tan: Is there a difference between style and fashion? What do these words mean to you?

Daphne Oz: I find what is in fashion to be a bit arbitrary, and it changes moment to moment. It's definitely not always flattering or even aesthetically pleasing—in that way, it's hard to recognize what makes something fashionable or not, without being told. But we inherently recognize style. It's timeless. It's beautiful. It's unique but not garish. You can be born with is or you learn it, but you know it when you've found it.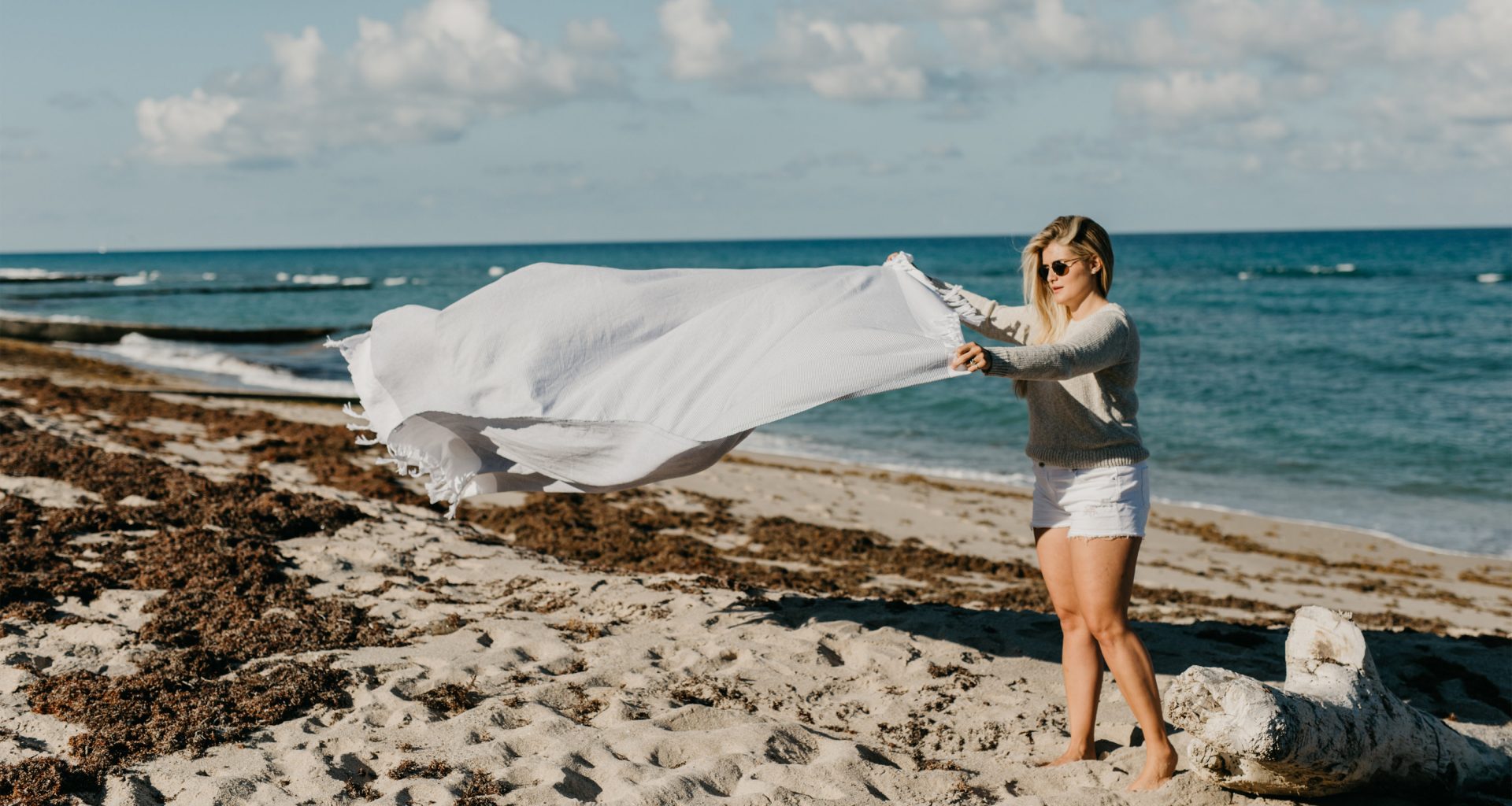 Photos by Christina Craddock