Living
Introducing Victoria Morris for Jenni Kayne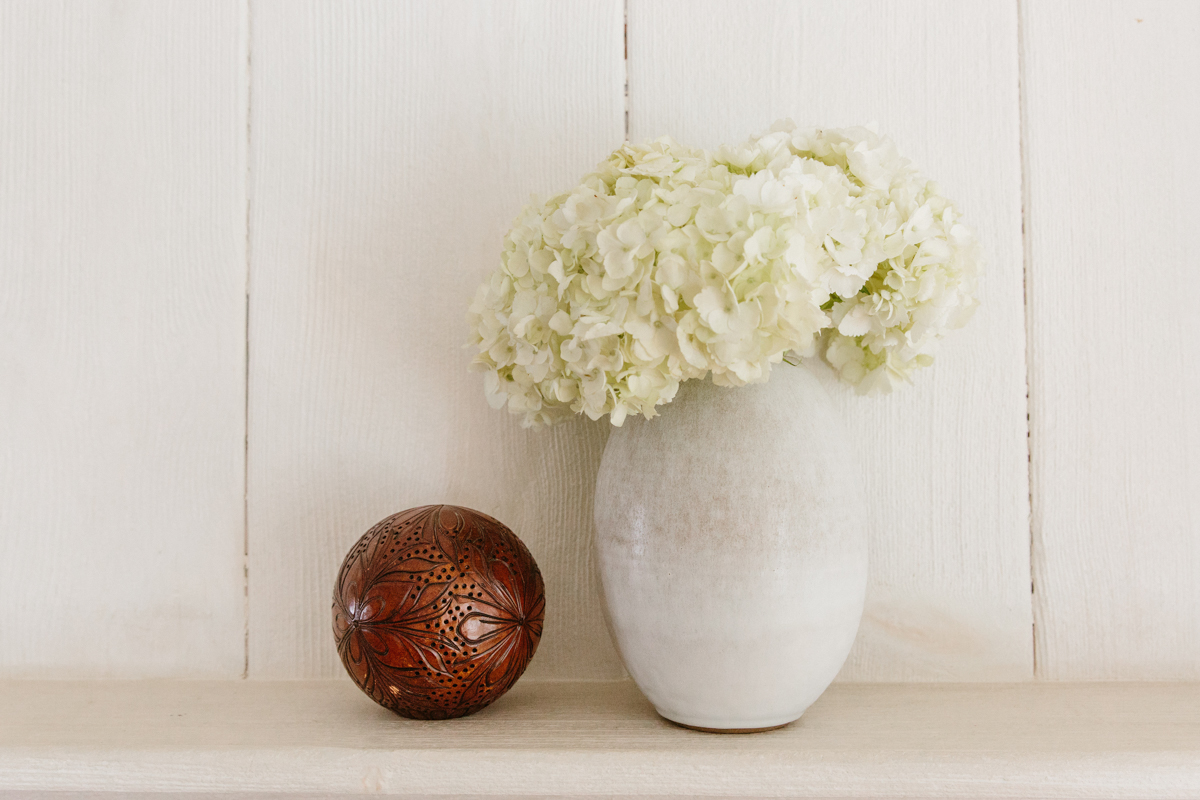 I've been collecting Victoria Morris's pottery for years. I love the warmth and imperfections of the Los Angeles-based artist's pieces, and the quiet but strong shapes she comes up with. Victoria is inspired by mid-century Scandinavian design as well as Japanese aesthetics in her work, and has been making her own pieces since high school. You can find her lamps, canisters, and bowls at Jenni Kayne stores. 
This spring Victoria and I collaborated on a few exclusive designs and I couldn't be more in love with the results. There are two vases; one is an hourglass shape which comes in matte black and matte white, and one is a big, oval vase with hand-dipped striations in shades of brown and white. Both are begging for a wild, overgrown bouquet of flowers. Victoria also made us a low, wide bowl in the same "birch glaze" as the oval vase. It's the perfect piece for fresh farmer's market produce but can function as piece of sculpture just as easily. My team asked Victoria for her take on the collaboration. Read what she had to say, below! XXJKE
Rip & Tan: How did you work with Jenni to come up with these beautiful pieces?
Victoria Morris: Jenni has always been a really trusting and supportive collaborator. For this grouping, she sent me a preview of some of the season's look book images and asked what I'd like to do based on the vibe of the photographs, the location of the shoot, etc. Jenni and I both share a love of minimal, subtle designs and palates. I put a grouping together based on some ideas I'd been working on and, between her feedback and my direction, we came up with this collaboration. 
Rip & Tan: What makes these shapes unique? What do you like about them as vessels?  
VM: These are quite classic modern forms, but because they're hand thrown and hand dipped in glaze—rather than sprayed—each piece has its own individual character, which I think gives the edition of work a special value and feel that's unique to handmade ceramics. 
Rip & Tan: How would you recommend using them? What are some different ideas for displaying them in a beautiful way?  
VM: The vases are great for either hand-picked herbs and wildflower arrangements from your garden or yard. I envision loose, beautiful flowers in these as a counterpoint to the clean form of the vase.  They're also interesting on their own, or displayed, on a kitchen shelf, mantle, or bookcase.  
And the bowl—mine really moves around the house. It's currently holding lemons in the kitchen, but last week it was on my coffee table as decoration!