Living
Jenni's Essential Tips for Holiday Home Décor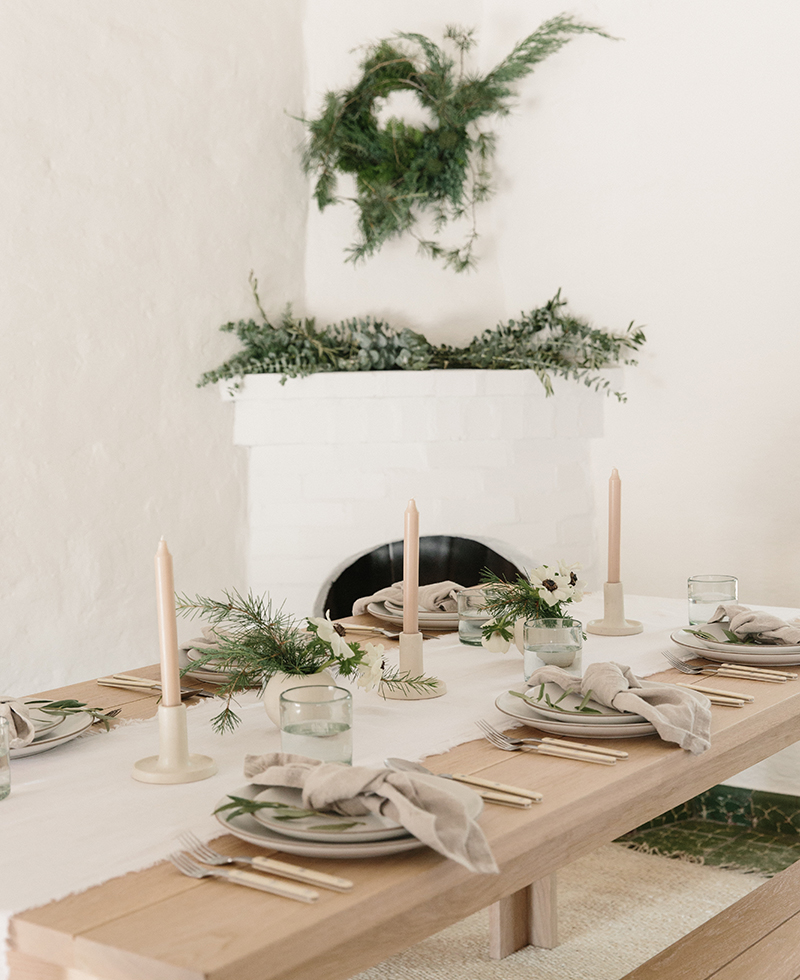 There's so much to love about the holidays. Festive home décor? That certainly sits very high on our list. From vibrant
tablescapes
to delicate hallway details, there's a particular joy that comes with sprucing up your space in time for the holidays. Jenni's expertise in all things
hosting
and home décor shines any time of year, so we knew just who to call when we were searching for some pointers on how to get our homes outfitted for the season. Whether you're
preparing for guests
or curating cozy moments, Jenni's tips and tricks will have your space looking and feeling merry in no time.
Bring in the Green
Jenni's first holiday décor rule is one that she follows all year round: bring the outdoors in. Our favorite types of holiday greenery are both easy to take care of and straightforward to style, giving you one less thing to worry about during the season of non-stop happenings. Head to your local farmer's market, flower shop, or grocery store (bonus points if you forage outdoors) and look for varieties such as cypress, pine, cedar, spruce, hemlock, juniper, and eucalyptus. Place your finds above the fireplace, across the tabletop, in ceramic bowls throughout the living room, and on your bedside tables for a simple (and seasonal) form of multi-purpose décor.
Arrange for the Season
Having a festive lineup of table setting essentials is all but required, but rather than accumulate niche pieces that seem to only find their purpose during the holidays, we follow Jenni's approach to seasonal tabletop décor by combining the principles that she employs any day of the year. Focus on natural, neutral linens, subdued vases, and ceramic dinnerware for a slightly monochromatic scene that's both elevated and easygoing. Add in the same greenery that's featured across your space to give the table the festive touch it needs.
Change up the Bedroom
Jenni makes sure to bring her holiday décor beyond the main living spaces and into the bedrooms by focusing on seasonal shades and accessories. Cashmere pillows and throws, sheepskins, and darker linen pillows are classics when it comes to giving any room a festive-focused upgrade. Jenni's go-to decorative touch rests in our trusty Woven Wall Hanging—while it artfully works throughout any season, it's the perfect addition that primes any space for seasonal celebration. (Tip: it also happens to make the ultimate present.)
Layer, Layer, Layer
Whether you're surrounded by snow or experiencing a slightly warmer holiday forecast, Jenni always makes sure to decorate her space with plenty of cozy layers to give friends and family the comfort of home. Add sheepskins to your dining room table and place warm blankets across sofas and beds for an instant touch of ease that is synonymous with homey holiday cheer. Don't forget to add candles in seasonal scents (
aspen
is our longtime favorite) to bring the entire space together.
Photos by Nicki Sebastian
More Stories