Food & Drink
Say Goodbye to Summer With This Inspired Menu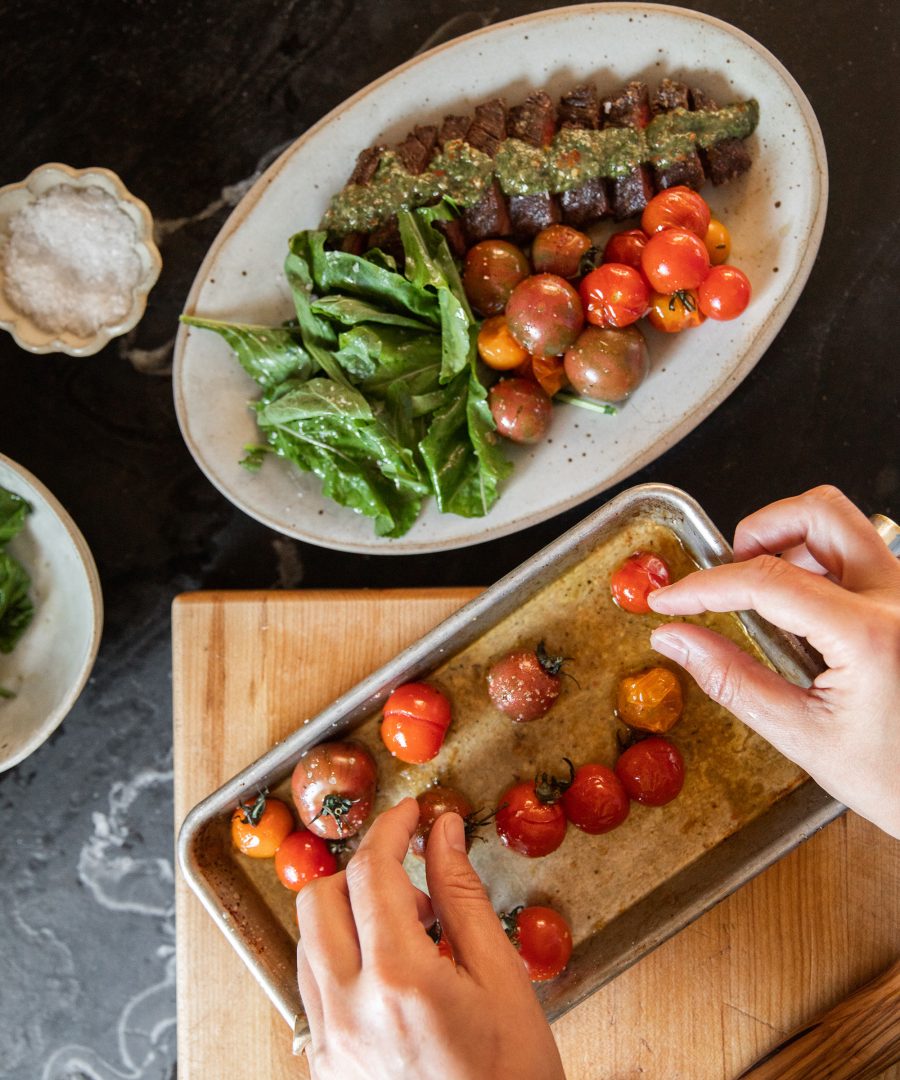 The countdown to fall has officially begun, but that doesn't mean we're skipping out on the last few flavors of the
season of sun
. We asked our chef in residence, Olivia Munak of
La Cura
, for a roundup of recipes that make the most of our late summer bounty. Read on for her wildly delicious, grill-inspired late summer menu, plus her go-to tips and tricks for effortless entertaining.
Rip & Tan: Walk us through this menu. How did you land on these specific dishes? Any specific points of inspiration?

Olivia Muniak: This is a stop at a farm-stand, post-beach type of menu. Summer is one of the most sensory times of the year for me: I am reminded of summers in Long Island with my family, clamoring back from the beach with salty, sun-kissed skin, and that smell of charcoal when you get the grill going. The menu calls for very few ingredients, but it is oh-so-satisfying! Each dish is bursting with peak-season flavors: juicy and sweet stone fruits, zesty herbs, ripe tomatoes, that unmistakable bit of char from the grill, and something cooling with citrus for dessert.

I also included a recipe for a shrub, a classic fruit and vinegar syrup that is mixed with sparkling water for a zingy, refreshing drink. It is the perfect way to bottle up the last few flavors of summer. And you can add a shot of alcohol if you fancy!

Rip & Tan: Anything we need to keep in mind if we're whipping this up without a grill?

Olivia Muniak: You can easily swap the grill for a cast-iron skillet or grill pan and cook the tomatoes in the oven. I cook the steak and tomatoes this way often!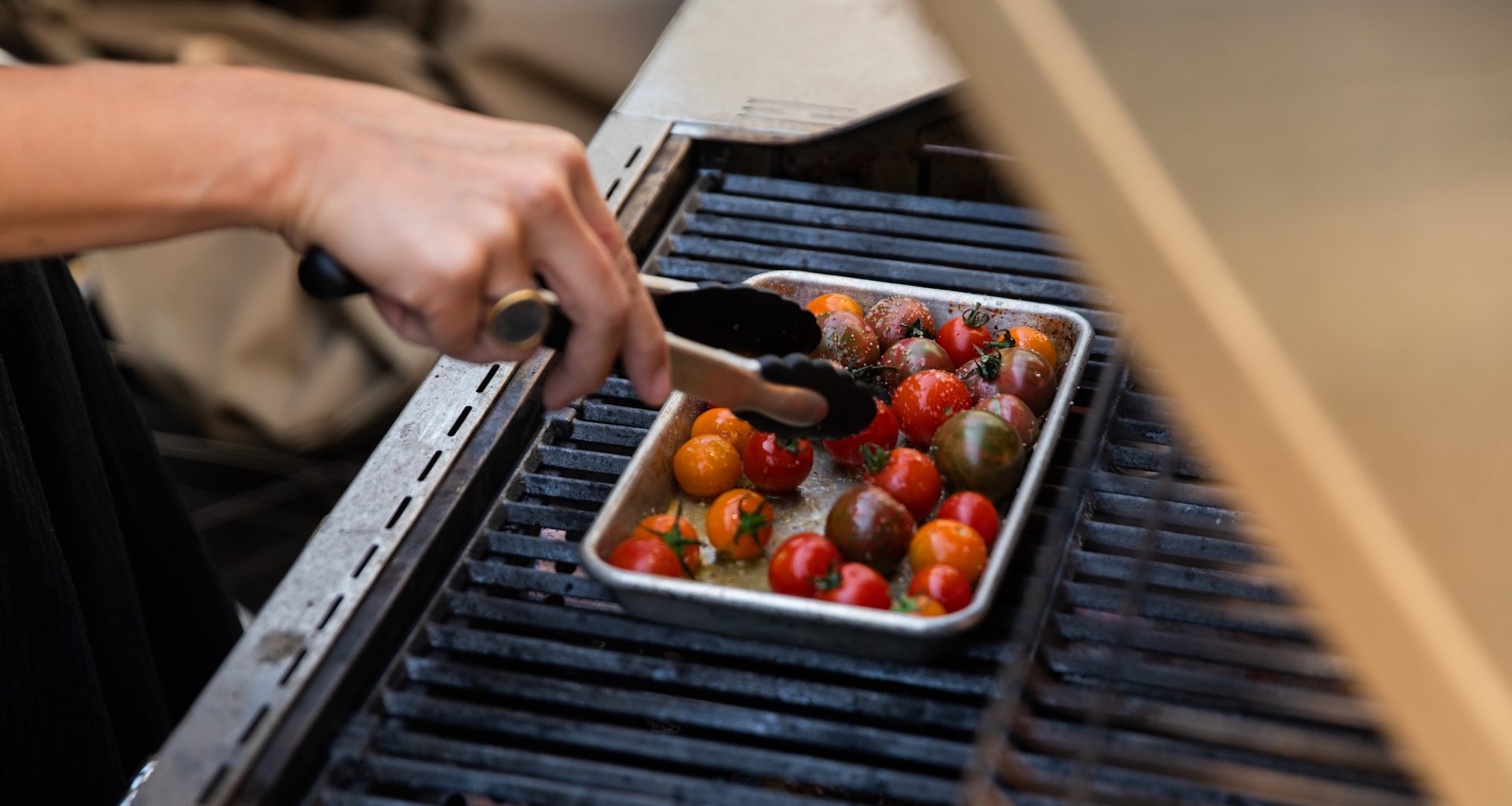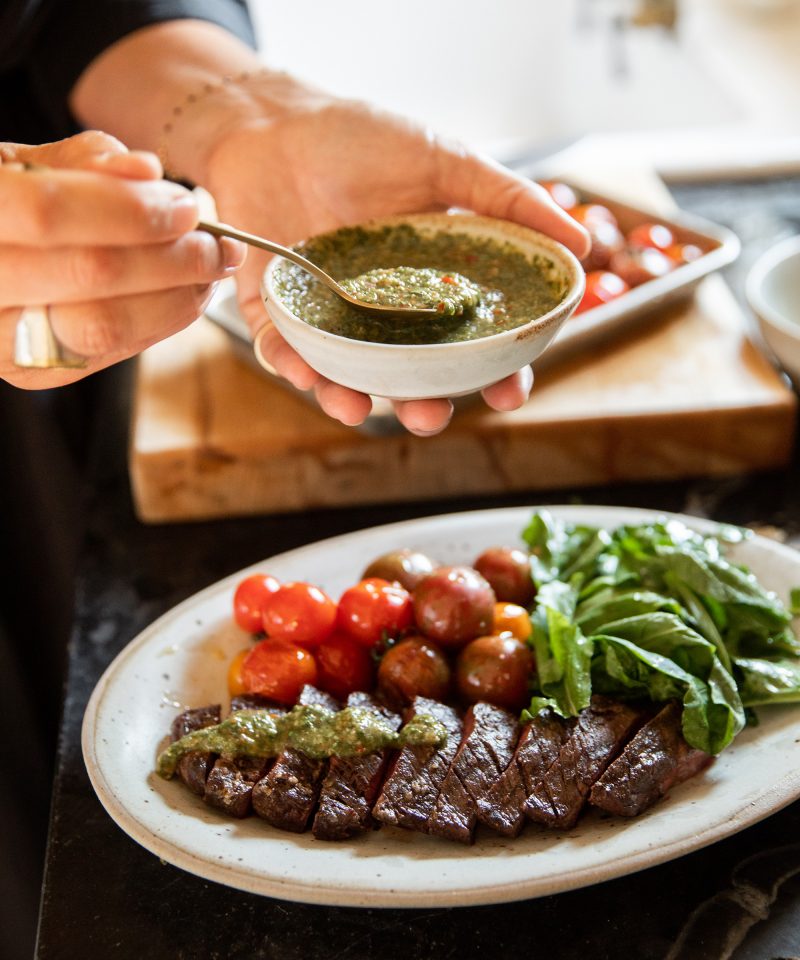 Rip & Tan: Are there any ingredients we should be looking out for as we transition from summer into fall?

Olivia Muniak: I think summer should be divided into two seasons, and this time of year has ingredients that peak during this transitional summer period. Look out for Reed Avocados, which we used for this recipe, unique variety of melons (if you are in LA, check out Weiser Family Farms at various farmer's markets for some of the best selections), as well as eggplant and celery. They are all great in salads and on the grill.

Rip & Tan: What are five kitchen essentials you think everyone should own?

Olivia Muniak: A high-speed blender like a Vitamix, a mircoplaner, an 8-9" chef's knife that is regularly sharpened, (I like Global & Messermeister knives), and an enameled cast-iron pan (I am partial to my Le Creuset skillet but I use Staub as well). I also love a big butcher block for prep, I use an oversized Boos Block—it's far superior to an average 12 x 14 cutting board.
Rip & Tan: What are your tried and true tips for hosting at home?

Olivia Muniak: Set your mise-en-place! It's a French culinary term that is used in every professional kitchen, and it translates to "everything in its place" and specifically refers to how a chef sets their cooking station. So how does that translate to your kitchen at home when you are hosting? Prep every sauce or dish that can be served at room temperature earlier that day, and measure out every ingredient for things that need to be cooked while your guests are there. Even for the most expert cook and host, searching for ingredients, reading a recipe, and doing the majority of the cooking while trying to hold a conversation and pour wine is stressful.

I set the table and pull out all my serving pieces earlier that day. I also like to empty the dishwasher and clean counters one hour before guests arrive. My mise-en-place is set and it makes the whole experience more fun for me and I get to partake in the party too!

Setting my mise-en-place allows me to enjoy a cocktail with friends and nibble on some olives, nuts, and salty chips for 30-40 minutes. Then I can get back into the kitchen and guests don't feel the need to help or clean! This is the time to enlist your partner or friend to keep making cocktails, pour the wine, and hold the conversation while you finish up the cooking.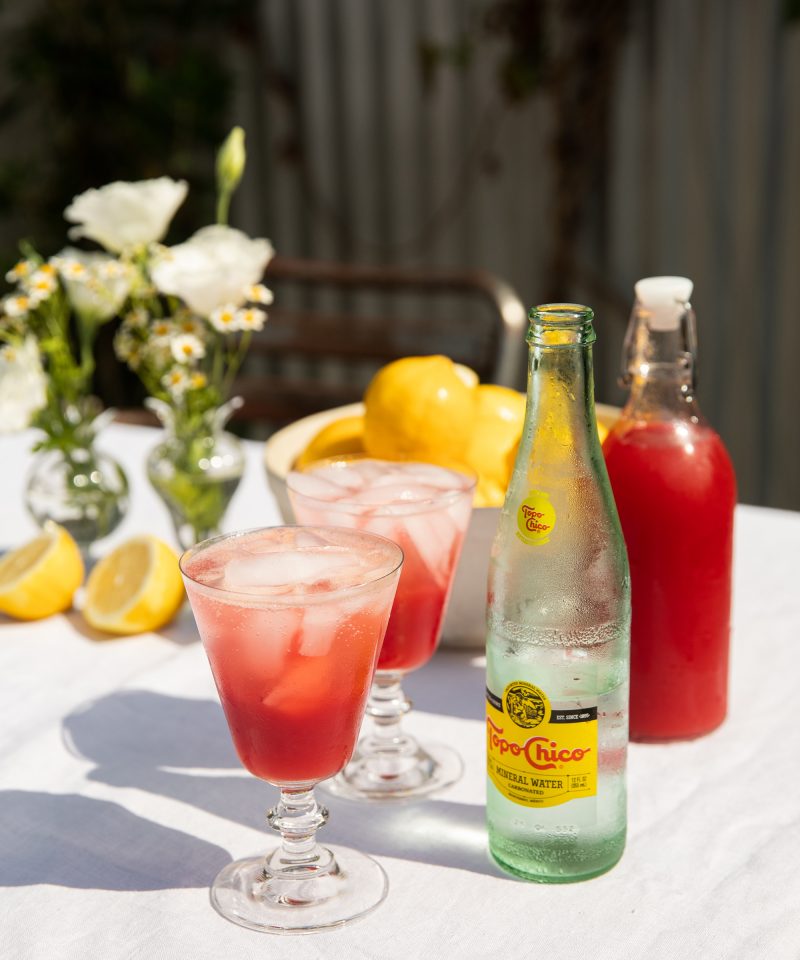 Rip & Tan: Whether it's a good bottle of wine or a crowd-pleasing type of cheese, what should we always have on hand for easy, last-minute entertaining?

Olivia Muniak: I take so many cues from Italy and Spain—they have the best dining culture in my opinion, and some of their aperitivo dishes or tapas are casual but delicious because of these ingredients. I keep a block of Parmigiano Reggiano and good mozzarella or burrata in the fridge, a variety of specialty nuts: Marcona almonds, Italian pine-nuts, and pistachios, a tin of anchovies and tomato paste, and good bread in the freezer—you can make an amazing meal from simply adding these ingredients to vegetables, fruit, pasta, or just enjoy as delicious snacks.
Butcher Steak & Chimichurri
Stone Fruit & Stracciatella Salad
Plum & Ginger Shrub
Recipe
Butcher Steak & Chimichurri
Servings: 4 people
Units:
Ingredients
3 lb

3 lb

hangar or flank steak

2 pt

2 pt

cherry tomatoes
1 bunch parsley
1 bunch cilantro
1 handful arugula
4 garlic cloves peeled
1 small shallot
1 jalapeno pepper seeded

1 cup

1 cup

extra virgin olive oil plus more for cooking

1/4 cup

1/4 cup

champagne vinegar
1 tsp honey
1 lemon zest and juice
flaky sea salt & fresh cracked pepper to taste
-Heat the grill to 350-400 degrees and remove the meat from the fridge and bring to room temperature on the countertop.
-Chop the leafy, top half of the herbs off, and discard the stems. Place all the leafy greens into the food processor. Add two of the garlic cloves and shallots to the food processor and give in a few pulses to incorporate ingredients together.
-Pour in the liquids: the olive oil, champagne vinegar, honey, and lemon juice. Pulse into a rough sauce. Add the lemon zest, and flaky sea salt & fresh cracked pepper to taste.
-Set the chimichurri aside. This will last 1-2 days in the fridge in an air-tight container. Season the steaks generously with salt & pepper. Make sure your grill is oiled before placing the steaks on. Grill each side about 4 mins for med-rare (depending on the thickness of steaks)
-In a small mini baking pan or small cast-iron skillet, toss the tomatoes with a good coating of olive oil, flaky sea salt, and fresh cracked pepper. Microplane the remaining two garlic cloves over the tomatoes and place the pan on the grill.
-Remove steaks at the desired temperature, remove the tomatoes at the same time. Allow the meat to rest about 10 minutes before slicing and serving. Serve steak with a spoonful of chimichurri and tomatoes on the side.