Style
The Beach Essentials This California Creative Swears By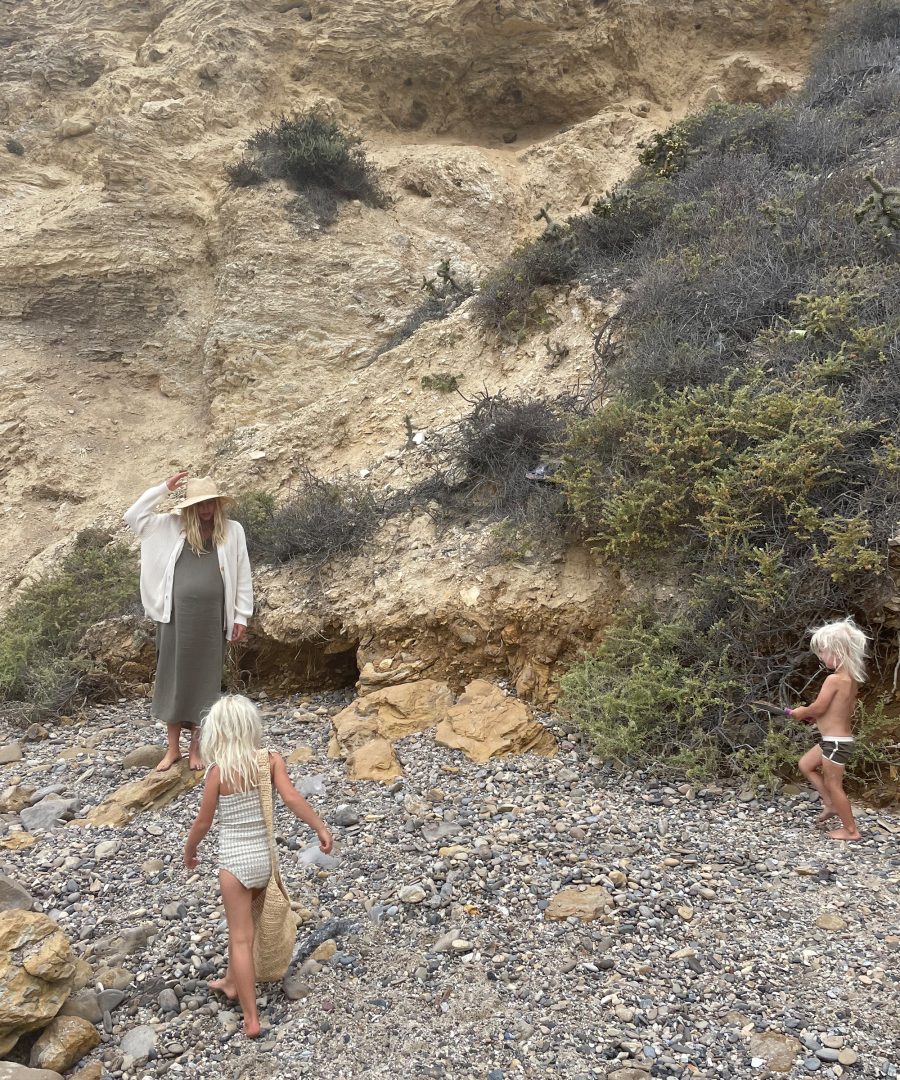 Nothing says summer quite like a beach day. But finding a lineup of fool-proof beach day essentials isn't always easy. Lucky for us,
Leah Bradley
is here to help. We asked this coastal creative for a few beach day outfit ideas to inspire us through the season, but her tips easily transcend any locked-in location. In fact, Leah's California-cool style can be applied to any summer activity, whether you have your toes in the sand, are sitting by the lake, out by the pool, or enjoying the sun in your very own backyard. Read on for a dose of summer style simplicity.
Rip & Tan: What does summer mean to you?

Leah Bradley: I've never been one for set routines or schedules, so I love that in summer almost everyone else is on that same page. Summer makes it seem like life slows down a bit and you're not rushing off to another activity, you're just enjoying the sun and don't have a care in the world.

Rip & Tan: From the dishes you cook to the activities that fill your day, how do you embrace the season?

Leah Bradley: My family basically lives off fruit during summer. We will literally take an entire watermelon to the beach and the kids love it. Also lots of salads using ingredients from our garden. I think we avoid the oven and spend all our time outdoors having friends and family over and eating outside in the warm evening air. We try to spend every waking moment enjoying the beautiful weather. I always say if the sun is up when I open my eyes in the morning the only agenda is the beach!

Rip & Tan: How would you describe your personal style?

Leah Bradley: Easy and comfortable, something that can work being thrown over swimwear, and is amazing enough to keep on from a day at the beach to hosting friends for dinner at night.
Rip & Tan: How has your approach to style shifted since having kids?

Leah Bradley: I don't have a ton of time to get ready since my little ones need my help and attention almost 24/7, so having staple pieces I can easily throw on makes life so nice. I also have to be comfortable. My days consist of lots of chasing after kids, playing with them in the sand, caring for a puppy, and bending down to pick up the food and toy trails left by all of them—so comfortable pieces are a must for me!

Rip & Tan: What's a typical summer day look like for you?

Leah Bradley: I am so thankful to be able to work from home and on my own time, so that allows for us to be able to take advantage of amazing weather and work later in the evening. During the summer, our typical day consists of waking up to the sunny sky, eating a good breakfast (oatmeal pancakes are the kids' favorite), packing up our lunches, and heading to the beach. We love to spend almost the entire day at the beach switching from swimming, sunning, and surfing with the kids. If my little one is tired he will nap right under the umbrella. For dinner, we will either plan a beach bonfire, beach camping trip, or will host our friends in the backyard making pizzas or even homemade sushi from our neighbor's daily catch as a fisherman.
"Truly living well is doing those things that bring you happiness with the people you love and being 100% present for them."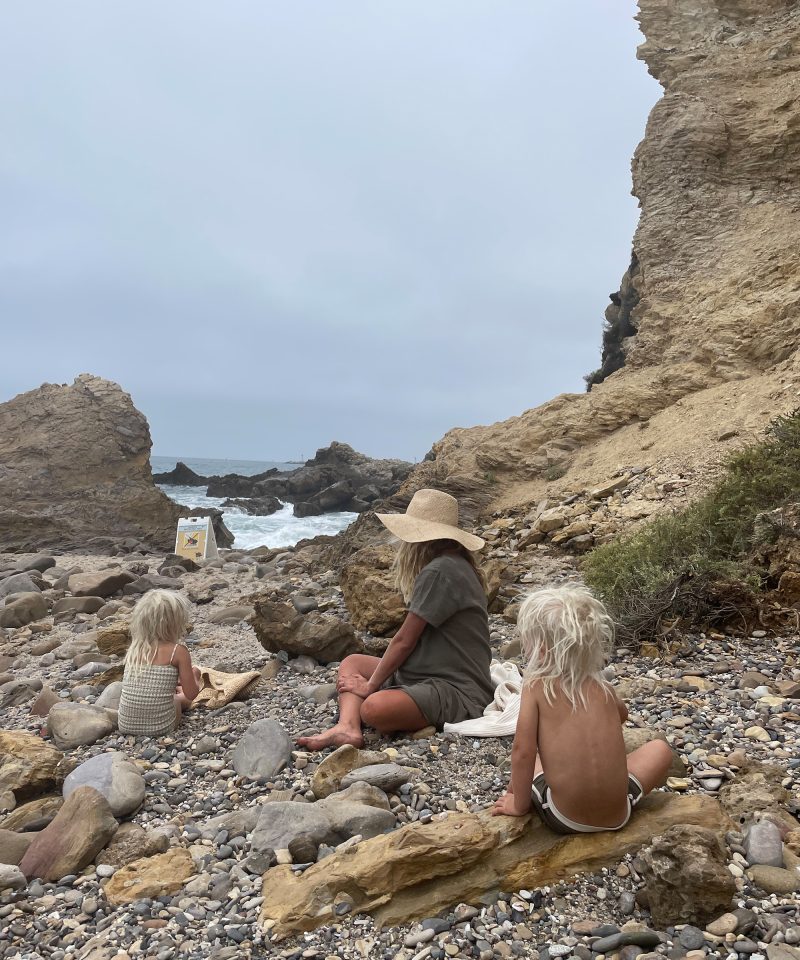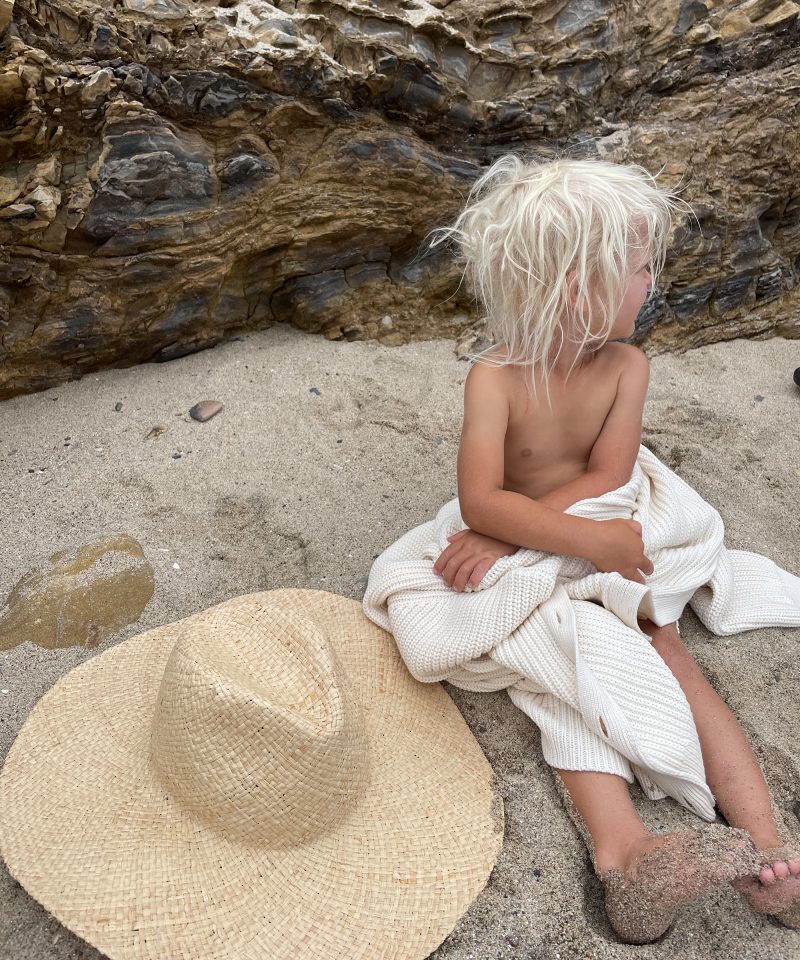 Rip & Tan: What are your beach day necessities? Any underrated essentials that you can't live without?

Leah Bradley: My beach day necessities are a cute hat to protect my face from all day sun, a good size tote to throw some beach toys, sunscreen, and snacks into for the day, and something I can throw on over my swimsuit and feel cute and comfortable in as the evening comes around! An underrated summer item for me is a great chunky sweater! It sounds weird wearing a sweater in summer, but when you are outdoors into the night, especially here in California, it does get breezy so having one you can throw on is so nice!

Rip & Tan: What are the summer beauty staples that you rely on?

Leah Bradley: As we are spending a ton of time in the sun, I rely on lots of daily sunscreen, moisturizer, and hair oil to help any damaged hair. I rarely wear any sort of makeup but I do have a solid routine for taking care of my skin, hair, lips that are all out in the sun, and dry weather for most of the day.

Rip & Tan: What does living well mean to you?

Leah Bradley: Living well to me is being present in every moment. I try to put my phone away and really enjoy what is happening all around me. It's crazy how much you miss when you're busy on your phone or mindlessly scrolling through social media. Truly living well is doing those things that bring you happiness with the people you love and being 100% present for them.