Living
Pacific Natural At Home Digital Exclusive: Janet Hall
Our second book, Pacific Natural At Home, is an ode to California interiors and the inspired spaces we call home. In anticipation of its October 12th debut, we're unveiling a handful of home tours you won't find in the book exclusively on Rip & Tan, starting with Janet Hall and her Napa home.

Built in 1962 by architect Walter Thomas Brooks, Petal House, which gets its name from the flat roof and petal-shaped overhangs, is an enclave that's fully informed by the land—it's this element of natural narrative that the Remodelista co-founder first fell in love with.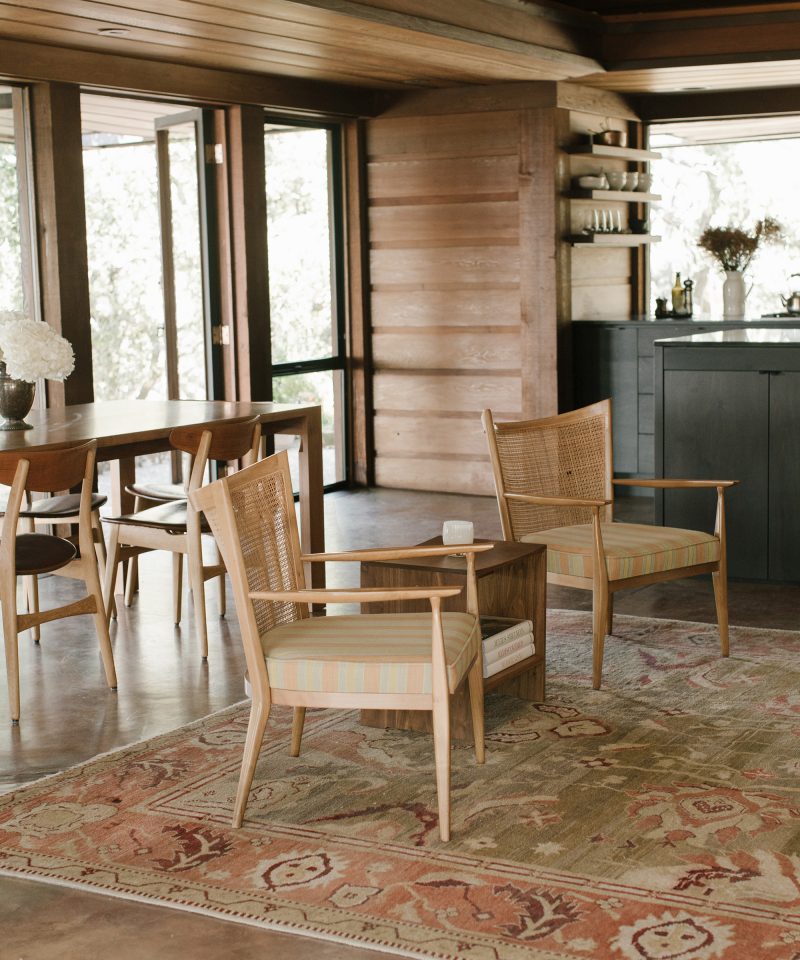 Rip & Tan: How would you describe your home's aesthetic in 3-5 words?

Janet Hall: Earthy, organic, and mid-century modern.

Rip & Tan: What do you consider to be the heart of your home?

Janet Hall: I'd divide it into three different parts. The row of old-growth redwood posts, like majestic trees lining a drive, inside the entry is the structural heart. The organic architectural forms of the "Petals" for which the house is named reflect the philosophical heart that's rooted in the forms of the natural world. The room that sits at the front of the house and offers panoramic views on all sides is the community heart.

Rip & Tan: What room do you live in the most?

Janet Hall: Just like the architecture that blurs the indoors and outdoors, the interior is marked by an openness.

The room that sits at the front of the house is a multidimensional living space and where you are most likely to find us. It feels open yet with distinct zones and feelings. It fosters a communal and open spirit and warmth.
Rip & Tan: No matter what the day has brought your way, how do you feel the moment you walk through your door? How do you want others to feel when they enter your space?

Janet Hall: Relaxed! The house is cozy and comforting, while at the same time open and airy—it's a cashmere sweater and breezy linen dress all at once. I hope others feel remarkably at ease here. Barefoot is the metaphor that might be most fitting.

Rip & Tan: How does the redwood used throughout the space tie your to your natural surroundings? Did it influence your design and décor choices in any way?

Janet Hall: It's funny, most of the interiors I gravitate to and have lived in are predominately white—albeit warm whites. I don't typically like dark, woody interiors, but this house was different. The redwood grounds the house and it helps make it feel connected to the landscape.

At first, I was worried that some of the furniture I wanted to use in this house would be too woody given the proliferation of redwood, but I was quickly reminded that if you collect things you love, there is always some connecting thread, and that held true. We did keep things minimal as the redwood walls and posts added so much character and warmth that we didn't need too much additional texture added in. We're drawn to warm tones, even in solid fabrics and simple forms, so that tied right in.

It is fair to say that the earthiness of the redwood pointed us to more organic and emotional forms.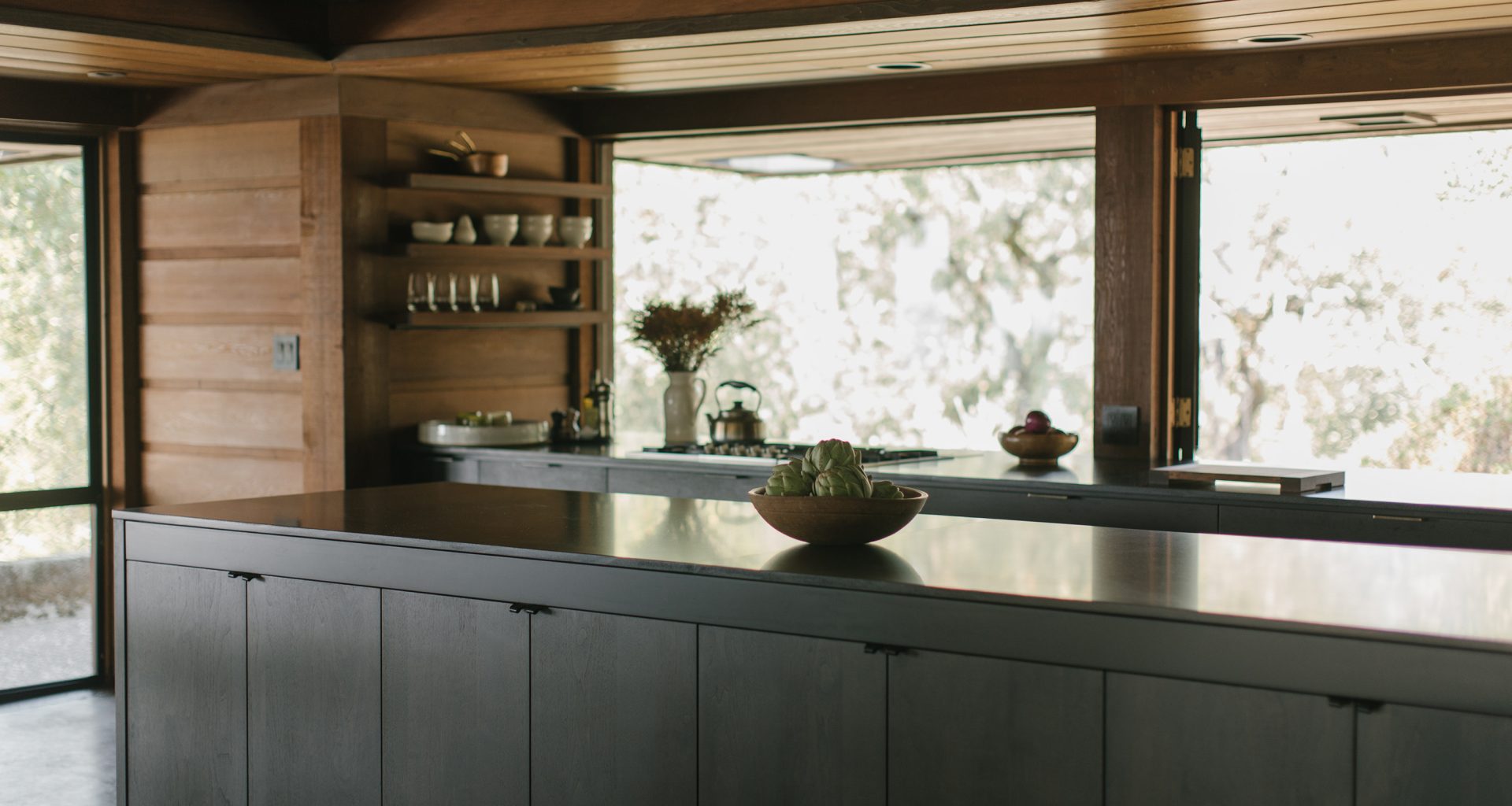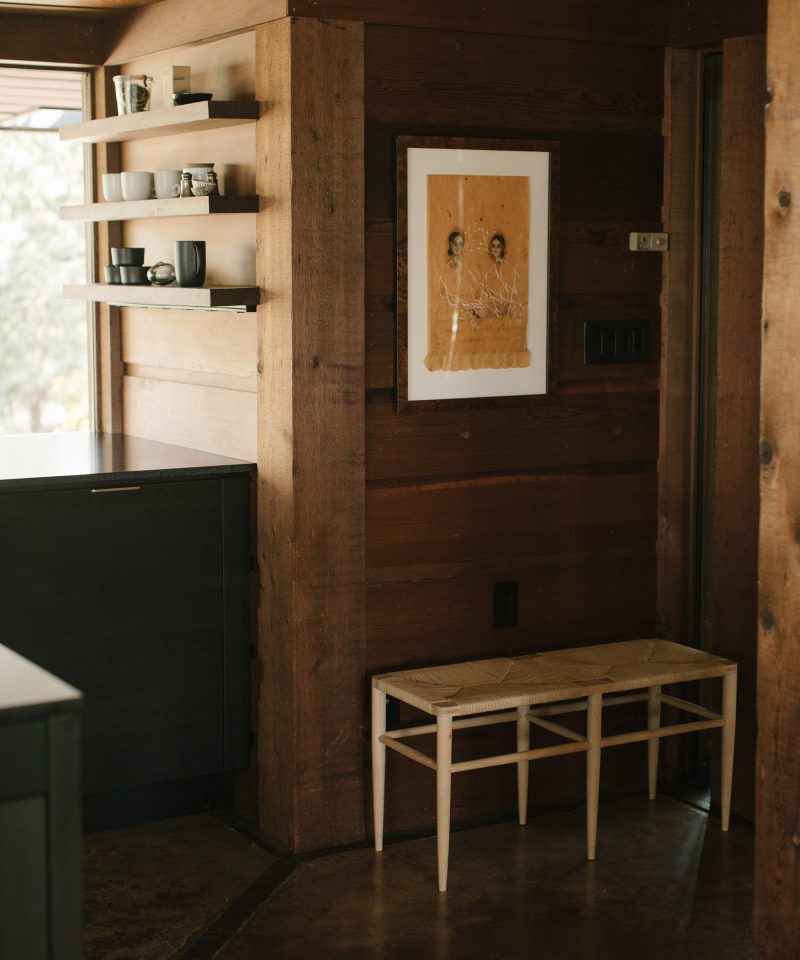 Rip & Tan: What are some of your favorite pieces and places in your home and why?

Janet Hall: Without question, there are a handful of art pieces that we have a strong connection to—two in particular: a Lee Friedlander photograph of a California Oak and a piece from Anne Appleby called Jasmine. While Friedlander is well known for his street photography, he did a Western Landscape series. We have a print from that collection, and it has a painterly depth and talks to the oaks that surround the house. And Anne's works, like the house, are natural abstractions.

In terms of favorite places, the hearth is as much an object as a place. I love it visually—the horizontal lines, the aggregate bench, the tactile but cold concrete that offsets the what-could-be-overbearing warmth of the redwood.

Rip & Tan: How does your décor work in sync with the mid-century architecture?

Janet Hall: Our décor and the architecture share common values of clean, simple lines and honest use of materials. Layered on this is the California ethos of comfort and ease. We have some pieces that fit into the classic mid-century modern category: vintage Wegner dining chairs and Paul McCobb lounge chairs. Other pieces would be characterized as traditional or modern, but they share those values above and tie everything together, even if they are stylistically different.
Rip & Tan: Your work founding Remodelista and now at Henrybuilt puts you face-to-face with beautiful pieces often. How did your work affect the way you designed and live in your home?

Janet Hall: A mantra at Remodelista that we all shared was straight from William Morris: "Have nothing in your houses that you do not know to be useful or believe to be beautiful." While I am obviously inspired by and love experiencing different environments, I really stick to the idea of staying true to yourself and live with what you love. It is about confidence. That said, discovery is a delight.

Rip & Tan: How is Petal House optimized for indoor-outdoor living? How does the way you live in your space shift from season to season?

Janet Hall: The house is part of the topography and the garden is really another room for us.  French doors on three sides of the central room open to the wide patio, extending the living spaces from the inside to out.

Where there aren't doors, there are floor-to-ceiling windows that give the feeling of being outside even when in. They bring the views and light in, so even when the doors are shut, we are not closed off from the outside world, but connected to it. Nature is welcomed in.

As the temperatures drop, we move from the borders to the outdoors, closer to the fireplace and hearth for physical and psychological warmth.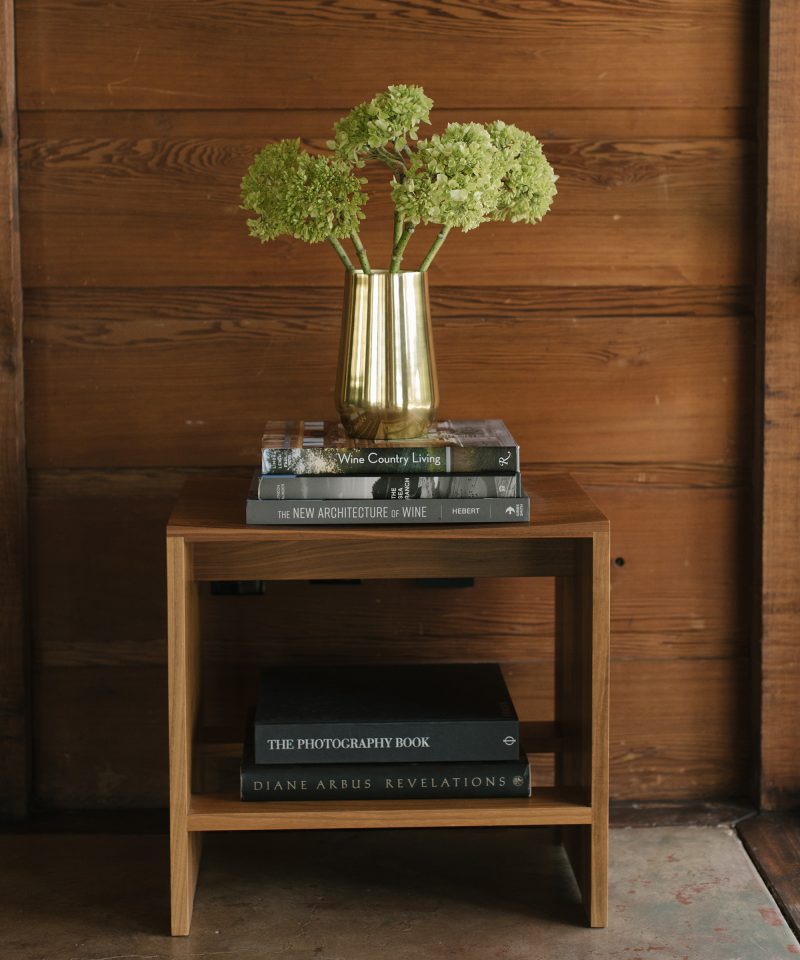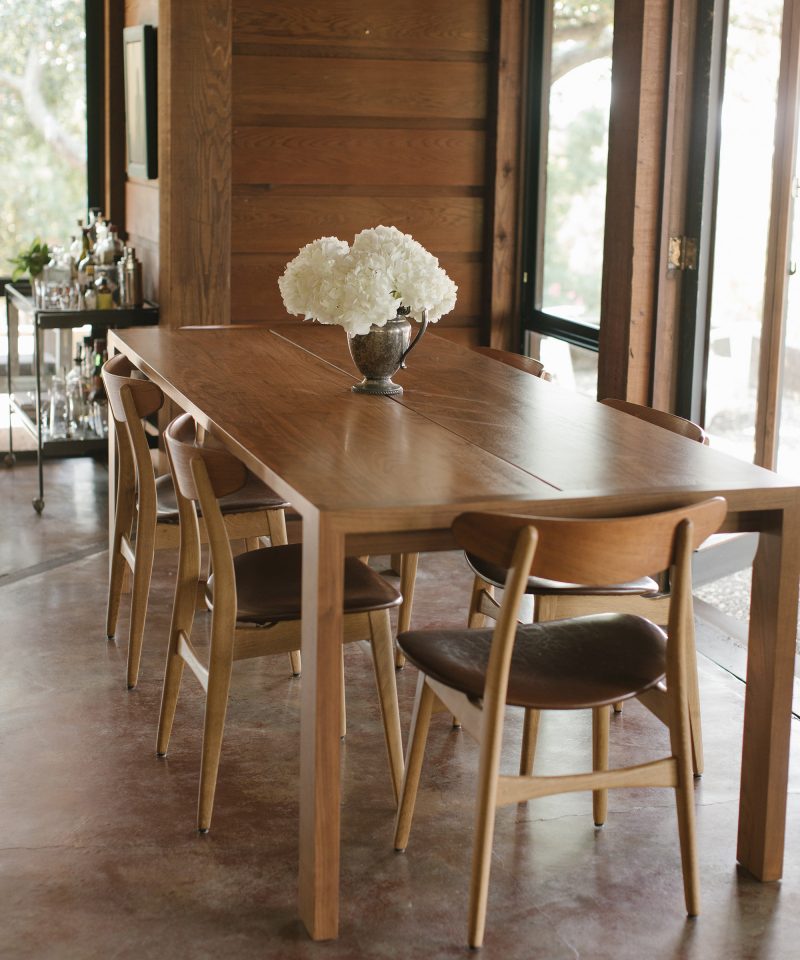 Rip & Tan: What do you love the most about California living? How is this reflected in your home?

Janet Hall: What a joy to be surrounded by amazing natural beauty and a fantastic climate. It's no wonder they coined the term "California state of mind." I love the mood brought on by rooms that open to the outdoors and the ability to live with materials of the surrounding land. I think California living is about homes that are made for living in, rather than for show.

Rip & Tan: What makes this space feel like home?

Janet Hall: What makes spaces sing is when they are personal, not perfect. I have moved enough to know that what makes it feel like home is the people I share it with. Home is my husband, kids, and good friends.
"What makes spaces sing is when they are personal, not perfect. I have moved enough to know that what makes it feel like home is the people I share it with. Home is my husband, kids, and good friends."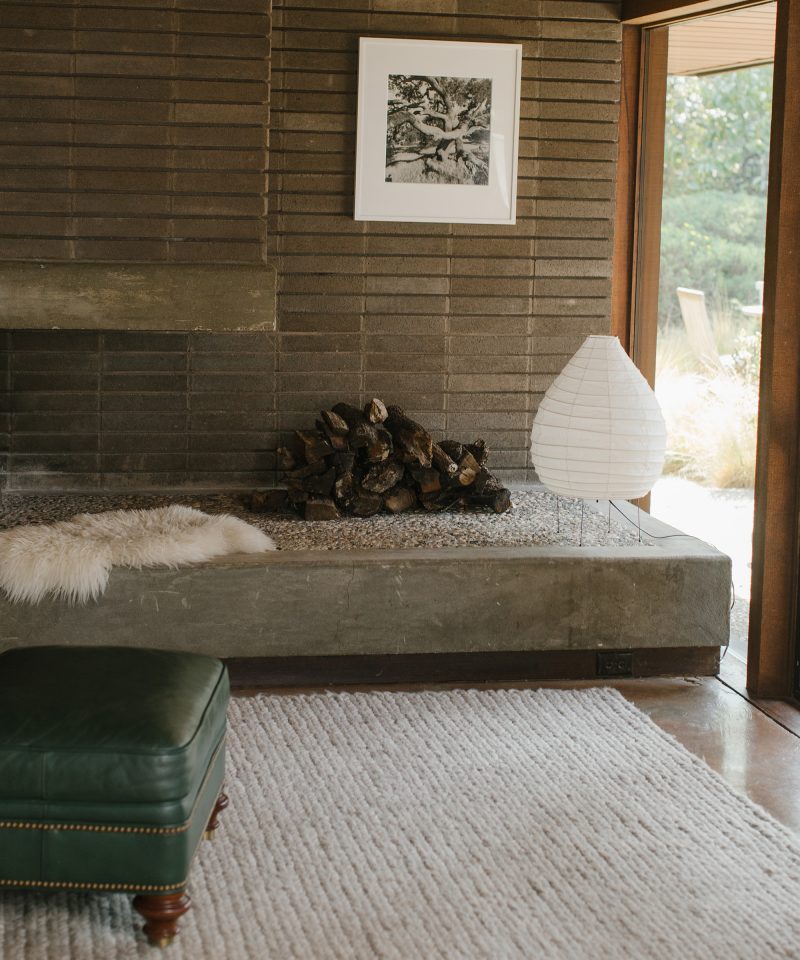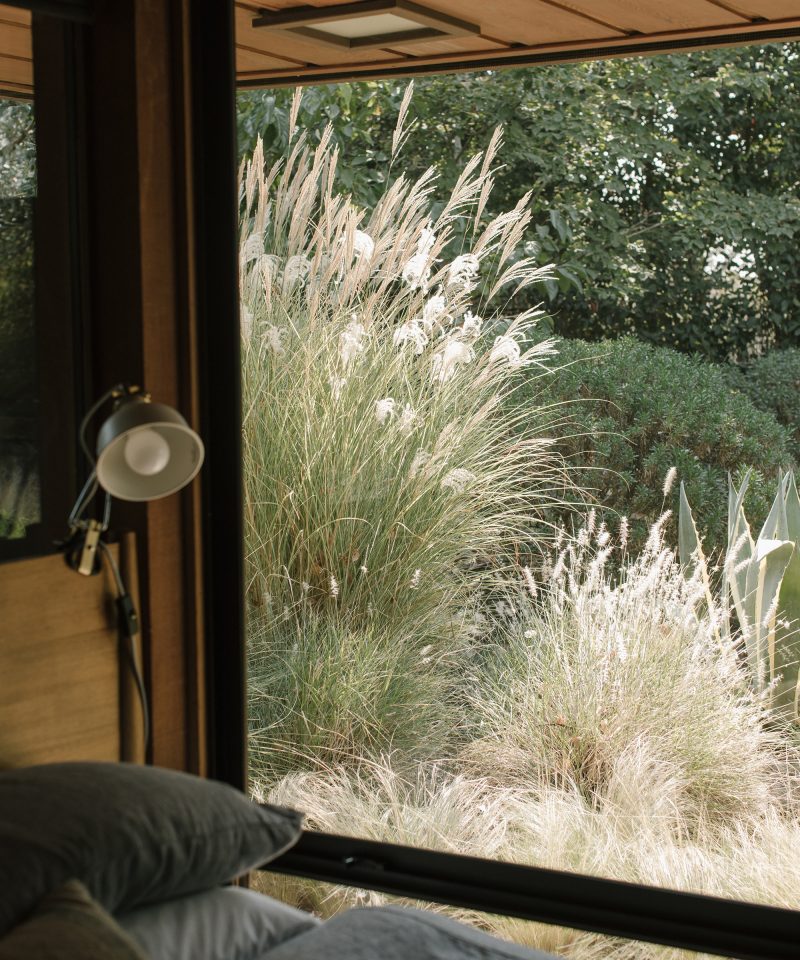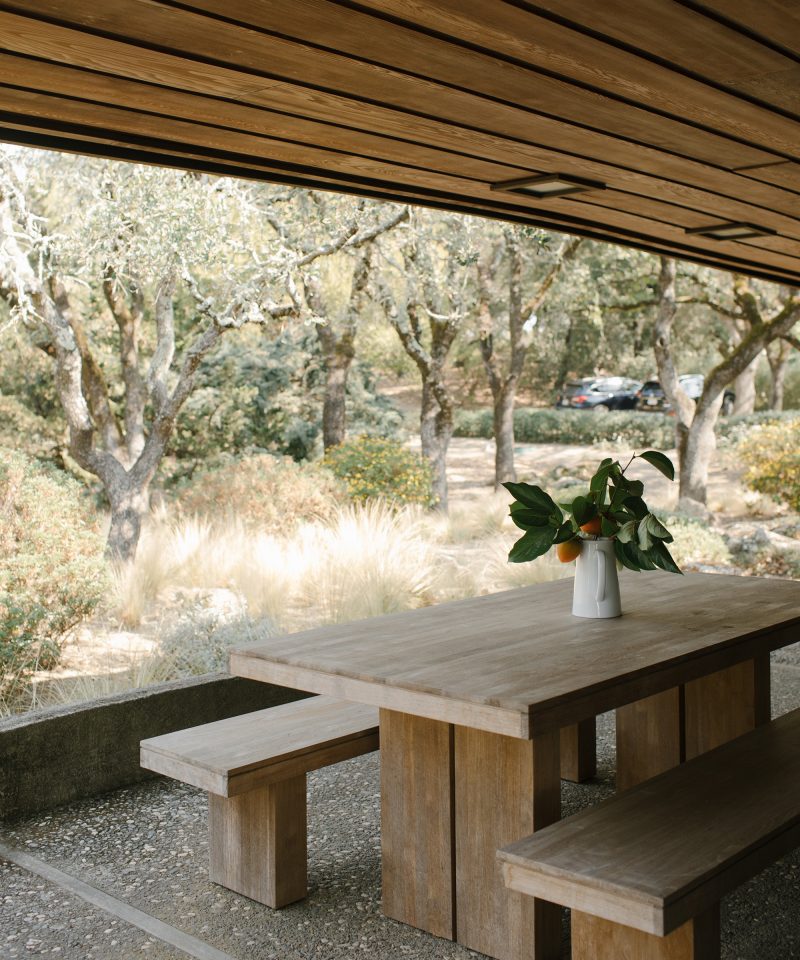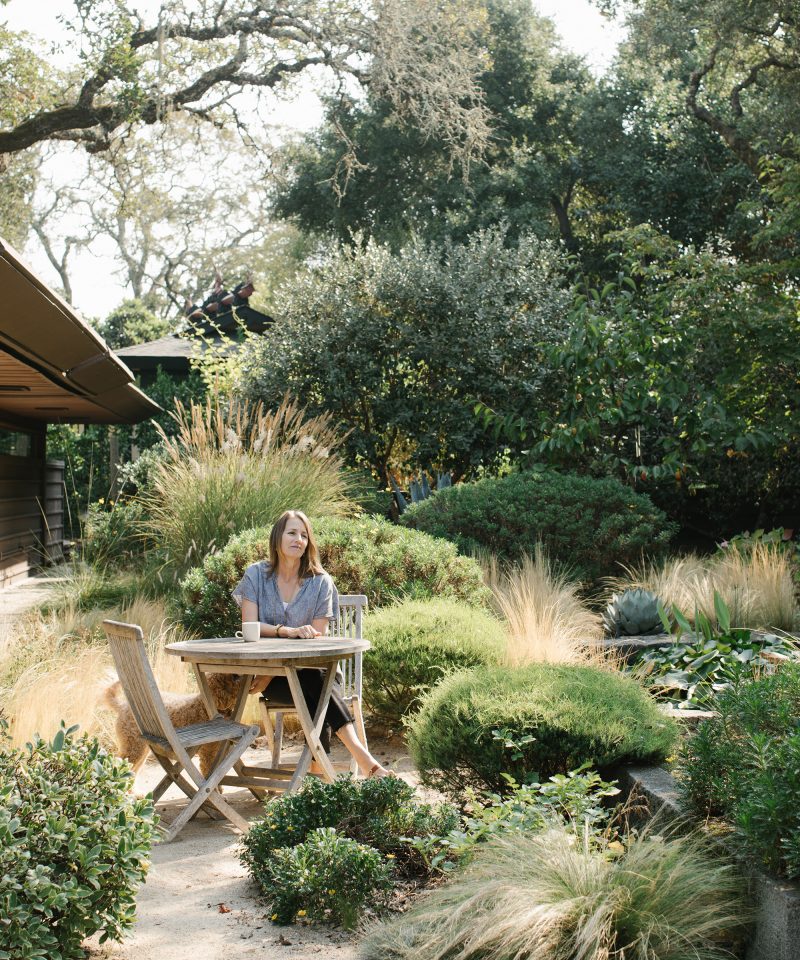 Rip & Tan: What does living well mean to you? How do you bring this to life in your own home?

Janet Hall: Stealing Alaine de Botton's term, I think of "the Architecture of Happiness." The idea is that architecture is a means to physically create a better life for people. Pulling that down to the individual level, the space I'm in affects me greatly—my mood, my energy, my creativity, my happiness. I think having shared values with my home is vital and interacting with a space and with objects that evoke good feelings.

I had that feeling the first moment I walked into this house. It had the life in it already, so it was more about folding into it and layering our personality without numbing the personality of the house.