Food & Drink
Middle Eastern Grilled Vegetable & Lentil Bowl Recipe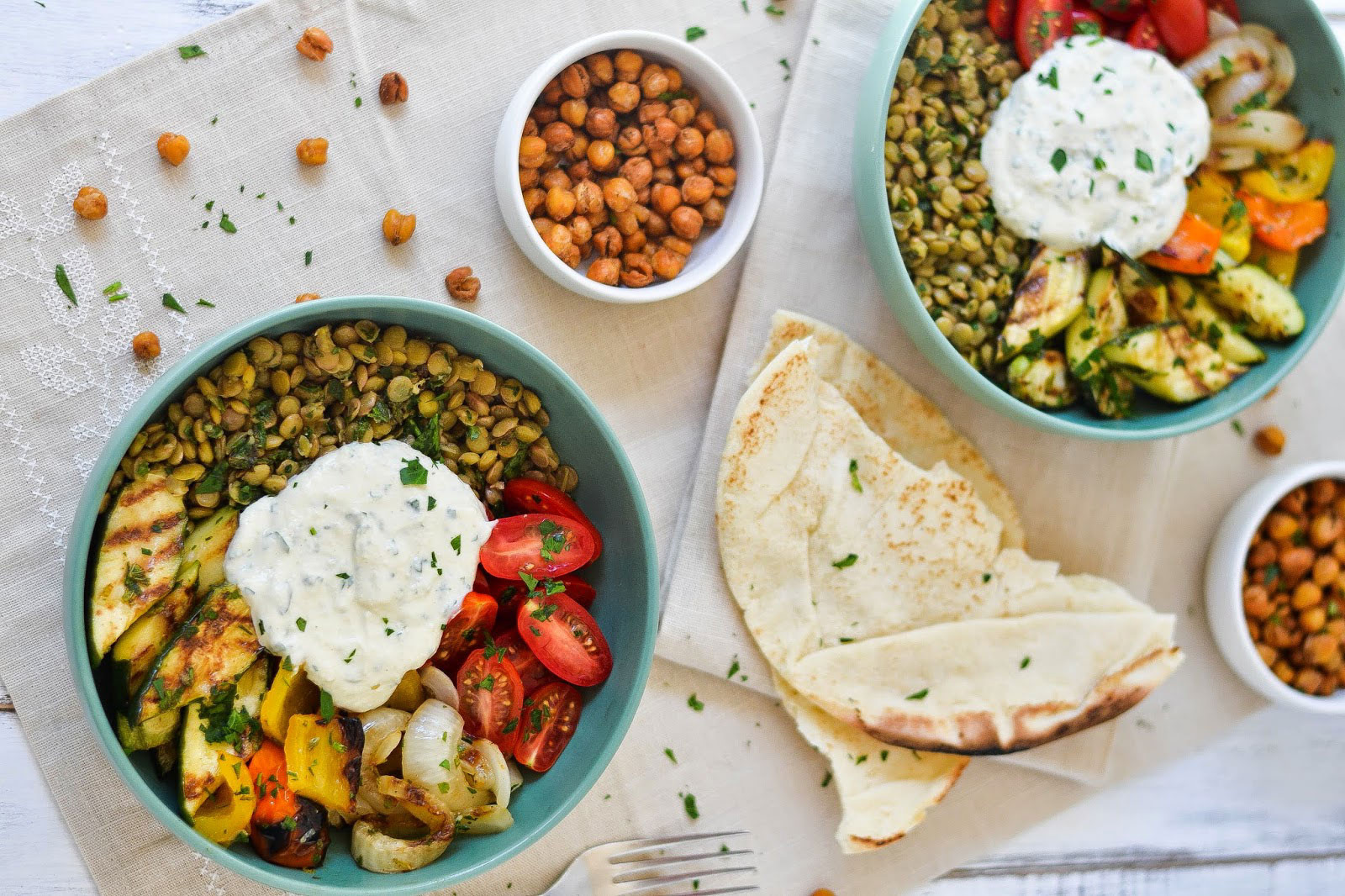 I'm always on the hunt for delicious, flavorful meals that aren't overly complicated, and that the whole family will go for. This Middle Eastern Grilled Vegetable & Lentil Bowl that I recently came across fits all of those requirements, and then some. And while there are quite a few ingredients and components, it all comes together pretty quickly – and the end result is so worth it. XXJKE
Middle Eastern Grilled Vegetable & Lentil Bowl Recipe By Apples and Sparkle
Recipe
Middle Eastern Grilled Vegetable & Lentil Bowl Recipe By Apples and Sparkle
Ingredients for the Falafel-spiced roasted chickpeas
2 can chickpeas drained and rinsed (15 oz. cans)
3/4 tsp cumin ground
1/4 tsp garlic powder
1/4 tsp onion powder
1/8 coriander powder
1/8 tsp cayenne pepper
1/4 tsp salt
1 pinch allspice ground
2 tbsp olive oil
Ingredients for the Tahini-yogurt sauce
1/2 cup

118 ml

yogurt Greek, plain

1/4 cup

59 ml

tahini store-bought or homemade
1 tbsp olive oil extra virgin
1 tbsp lemon juice
1 tbsp parsley chopped, fresh
1 small clove garlic minced
1 pinch salt
1 tbsp water if needed to thin out to desired consistency
Ingredients for the Cooked lentils
1 cup

237 ml

lentils green, rinsed and picked over to remove any debris

4 cup

946 ml

water
1/2 tsp salt
Ingredients for the Grilled vegetables
4 zucchini small, halved lengthwise
2 bell pepper cored, seeded and cut into large pieces
1 sweet onion large, cut into 1/2-inch slices
olive oil
salt
Ingredients for the Dressing and remaining ingredients
6 tbsp olive oil extra virgin

1/4 cup

59 ml

lemon juice fresh
2 cloves garlic minced
1/2 tsp cumin ground
1/2 tsp salt
1/8 tsp cayenne pepper

1/4 cup

59 ml

mint fresh, minced

1/2 cup

118 ml

parsley fresh, minced, divided

10.5 oz

298 g

tomato grape or cherry tomatoes, halved
Make the roasted chickpeas:
Preheat the oven to 400 degrees f.
Spread the chickpeas out on a clean kitchen towel, using paper towels, blot the chick peas dry, quickly removing any skins that separate from the beans.
Add the chickpeas to a large baking sheet sprinkle with the spices and salt and drizzle with the olive oil.
Roast the chickpeas for 45 minutes to an hour, shaking the pan every 15 minutes. Let cool.
Combine all the components of the tahini-yogurt sauce, mix well and refrigerate while finishing the rest of the dish.
In a medium saucepan combine the lentils, 4 c. water and 1/2 t. salt. Bring to a boil, reduce heat and simmer uncovered until the lentils are tender but still hold their shape, about 25-30 minutes. Drain the lentils in a fine-mesh strainer, transfer to a large bowl.
While the lentils simmer, prepare the dressing: Whisk together the 6 T. extra- virgin olive oil, 1/4 c. lemon juice, 2 cloves of minced garlic, 1/2 t. ground cumin, 1/2 t. salt, 1/8 t. cayenne, mint and half of the parsley. Reserve 3 T. of the dressing for the grilled vegetables.
Add the remaining dressing to the still-hot, cooked lentils. Toss to coat. Set the lentil salad aside at room temperature until serving time.
Grill the vegetables and finish the dish:
Coat the veggies with olive oil and sprinkle with salt.
Grill until tender and slightly charred.
Chop the veggies into bite-sized pieces and toss with the 3 T. reserved dressing.
Just before serving, add the remaining 1/4 c. parsley to the lentil salad. Serve the grilled veggies with the lentil salad, top each with some of the tahini-yogurt sauce and garnish with the grape tomatoes and roasted chickpeas.