Entertaining
The Spring Floral Encyclopedia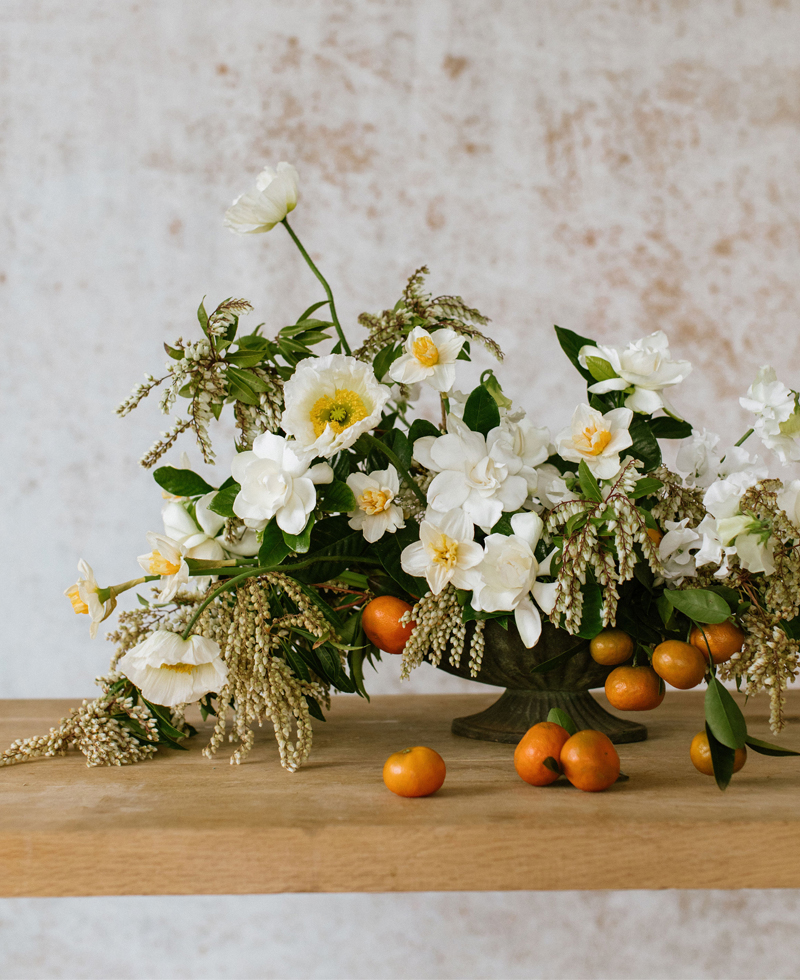 Spring is the perfect time to experiment with flowers, and
Moon Canyon
designed a bouquet as fresh and bountiful as the season itself. With texture and depth, this arrangement recalls images of flowering fruit trees and acres of orchids. If you're new to florals, simply take notes from the garden and your surrounding landscape to make your own version. The key here is to remember that nature's imperfections are part of its beauty.
The Flowers
Sweet Pea—Native to Mediterranean regions, sweet peas are noted for their petals that resemble a pair of butterfly wings. April's official birth flower, these add romance and softness to any arrangement. True to their name, many varieties have a delightfully delicate and sweet aroma. In Victorian times, sweet peas were a way of saying "thank you for having me" to the host.

Pieris—Also known as the Dwarf Lily-of-the-Valley, this shrub blooms in a showy cascade of bell-shaped clusters in early spring, from January to March. On the vine, the trellis-like branches create an almost lace-like effect. Here, Kristen lets the branches droop over the sides of the vase for a carefree, overgrown aesthetic.

Poppy—You may know the orange poppy as California's state flower that recently blanketed the Anza-Borrego Desert in a dreamy superbloom. The white poppy, or the Icelandic poppy, has the same joyous spirit but with wider petals and a peppy, upright stem.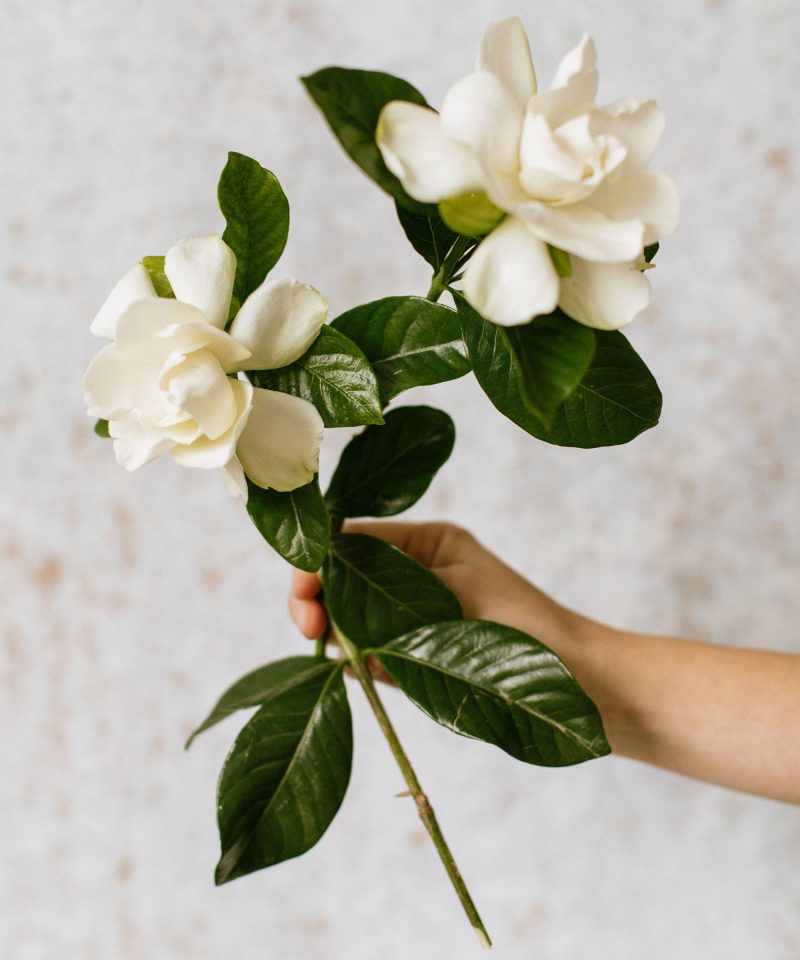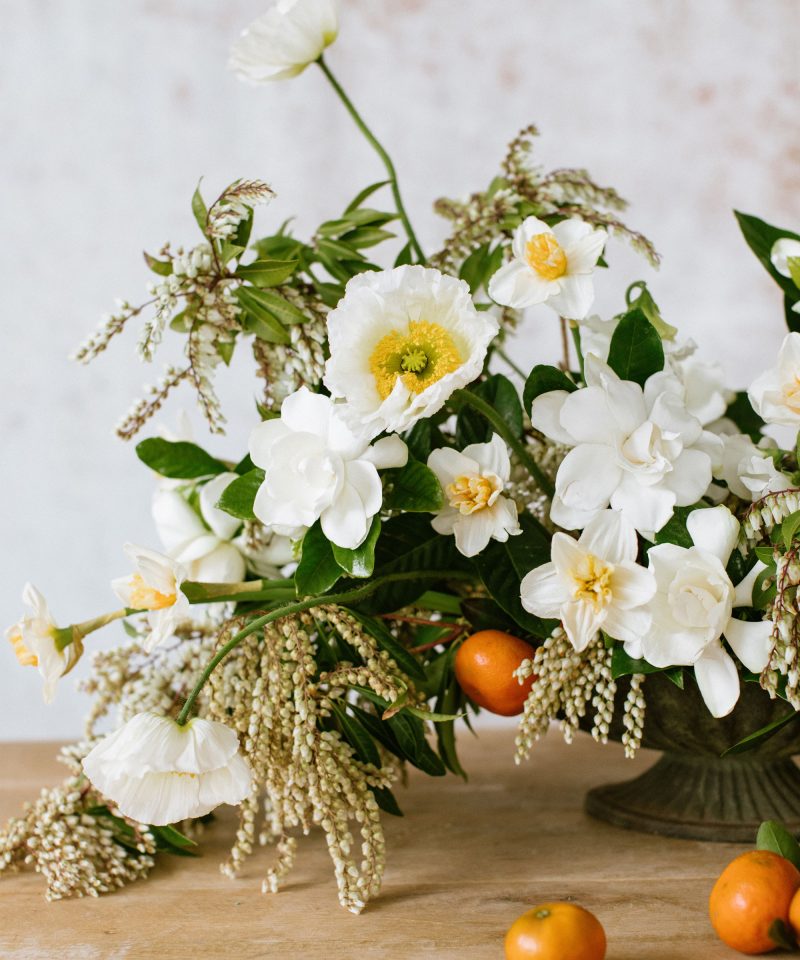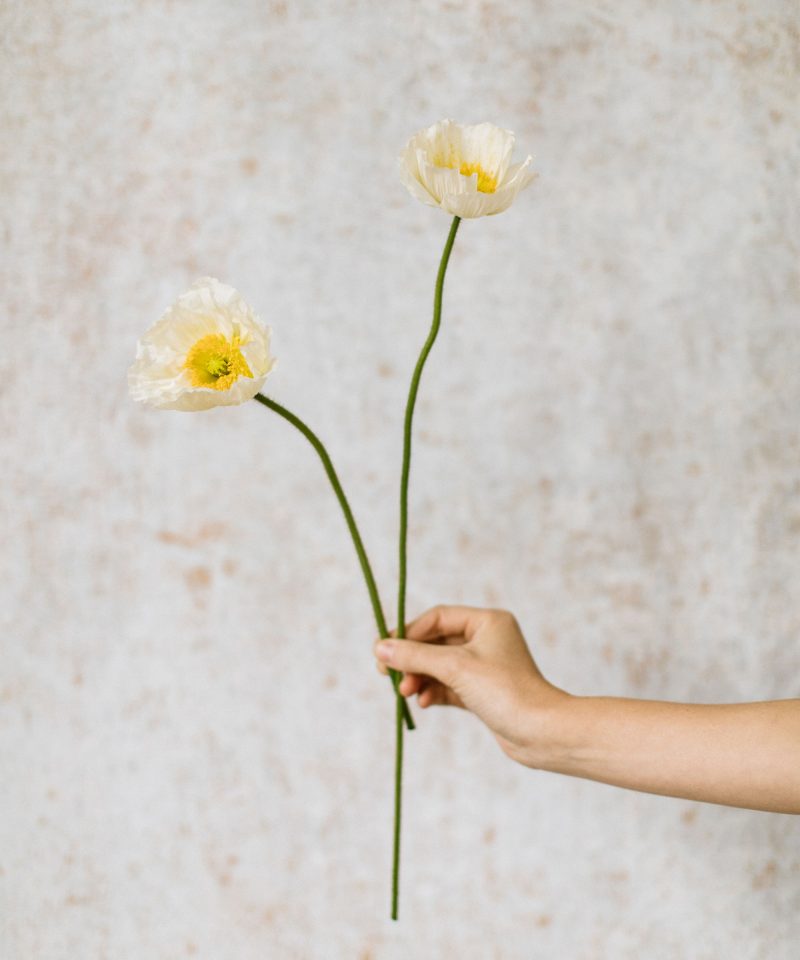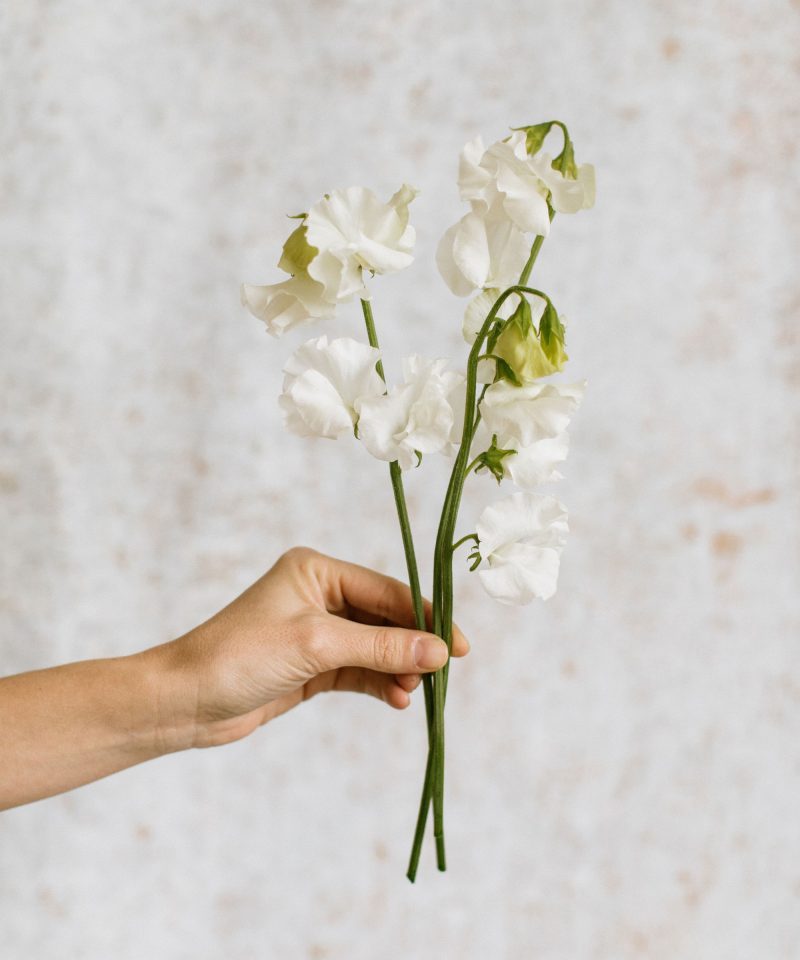 The Flowers
Gardenia—You can recognize this flower by its star-shaped petals, or you may first notice its sweet, transportive smell. This creamy white flower blooms from mid-spring to mid-summer.

Daffodil—Also known as the narcissus, this six-petaled trumpet-like flower is the ultimate spring bloom. English superstition says that wealth will be yours if you see the first daffodil of spring—true or not, it's worth keeping your eyes out for these bright beauties.

Pixie Tangerines—Ojai is home to acres of orange groves, where the pixie grows and begins to harvest in early March. Adding whole fruits to your florals creates visual intrigue, adds volume, depth, and a cheerful pop of color. Get creative here, but try to pick a fruit with a stem, like grapes or kumquats, then secure to your flowers with floral wire or tape. Don't be too fussy here and don't worry if a few fall off. Plentiful is the operative word here, so let your bouquet be as wild as you want it.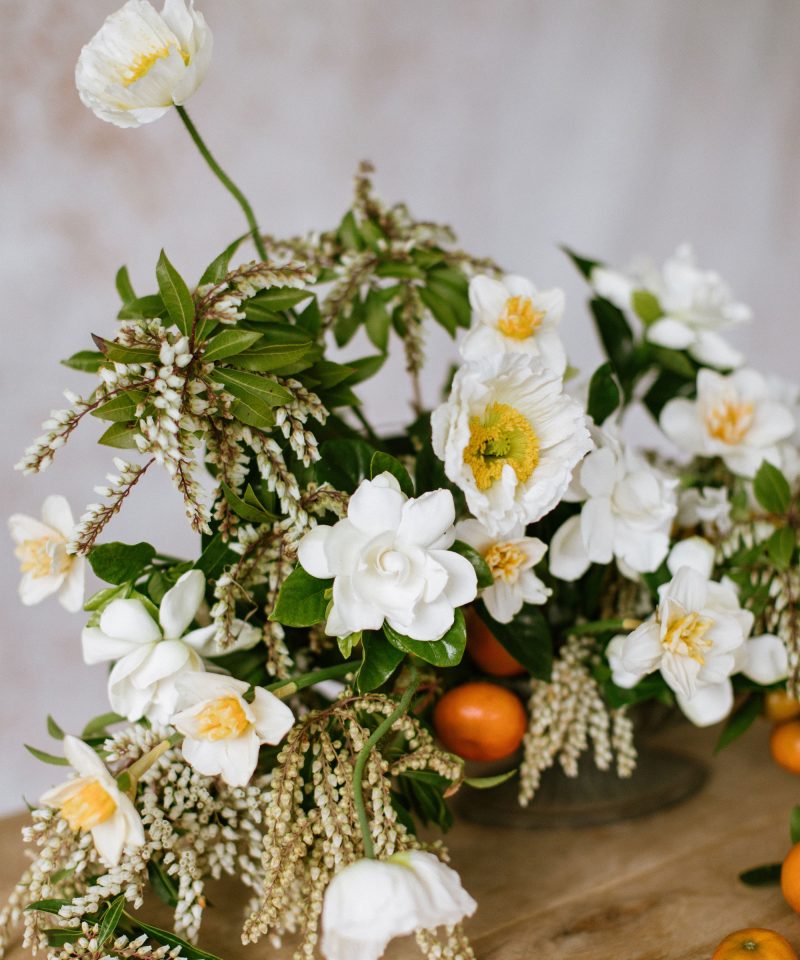 The Vessel
The right container can change the look and feel of your flowers, but you don't need to have a huge collection of vases to get it right. Sometimes, a stark contrast can add a lot of intrigue. Take the iron vessel used here—it may have been an unlikely contender, but juxtaposed against paper-thin petals and dainty droops of pieris, it creates a grounding base for more delicate blooms. Think about what you already have—maybe some vintage stoneware or your metal ice bucket—and get creative.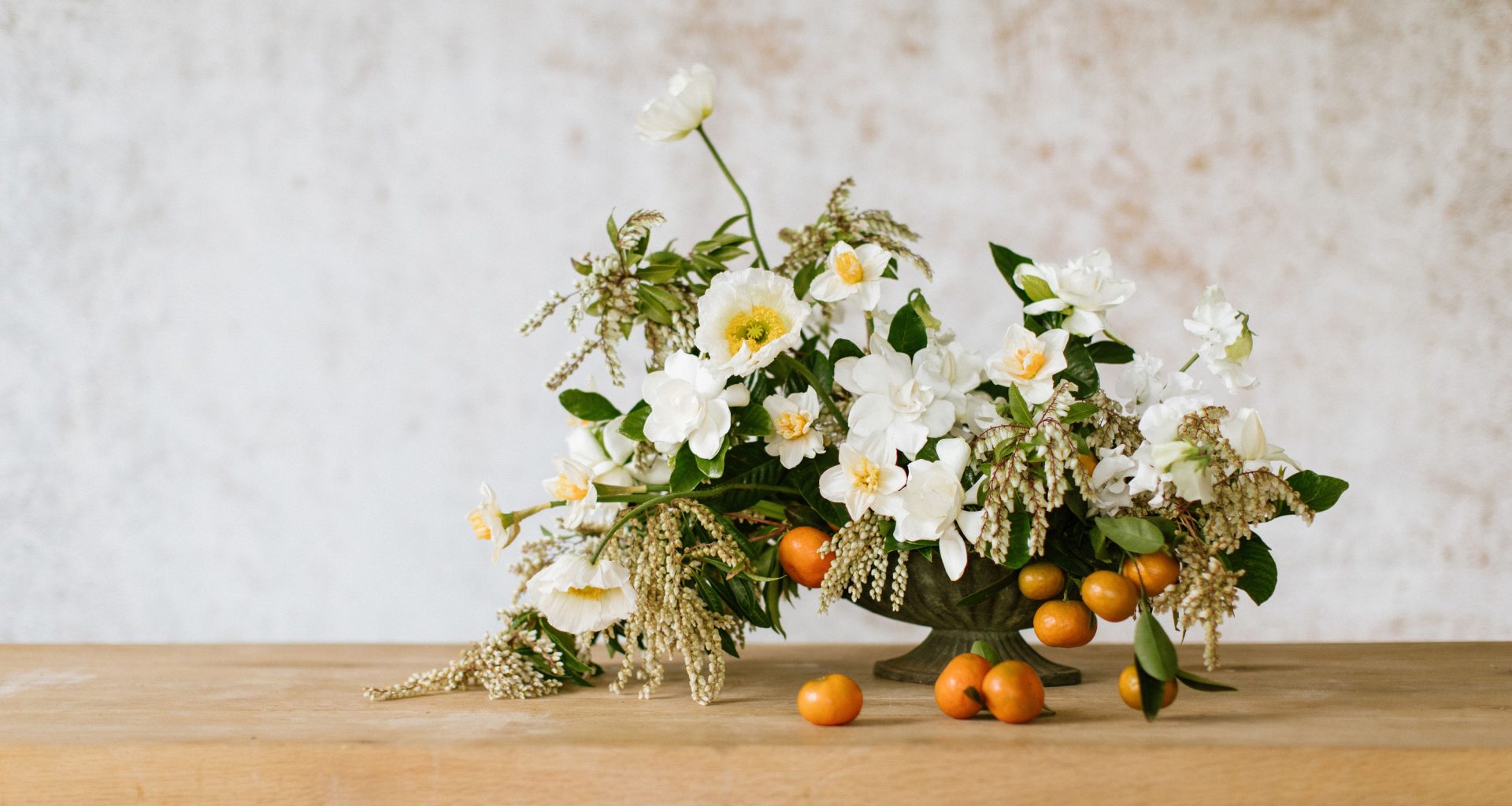 Photos by Nicki Sebastian