Uncategorized
Summer Sides: Gjusta's Cauliflower and Dandelion Salad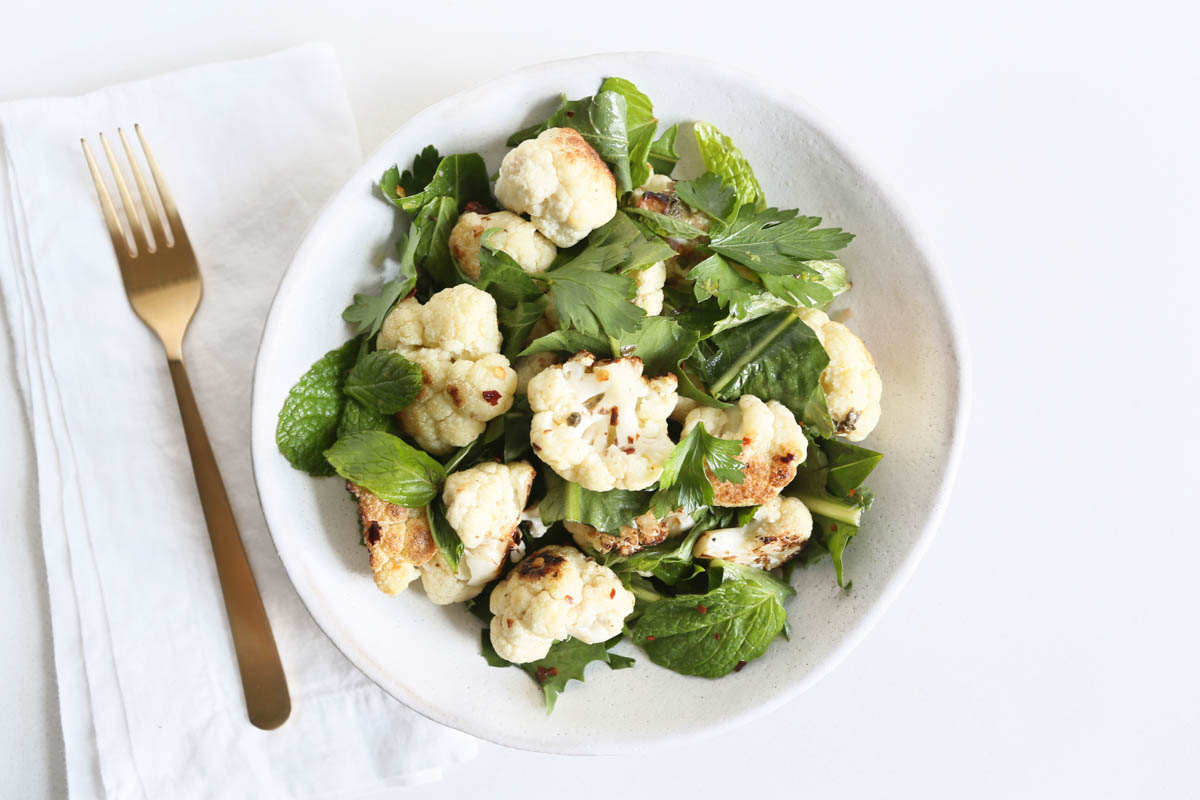 Yesterday we shared photos from my sister Saree's rustic bridal brunch, but I wanted to go into detail on one of the recipes from the meal, which was catered by Gjusta in Venice Beach. This cauliflower and dandelion salad was so delicious and unexpected, I thought it was the perfect summer recipe to share. You can bring this salad to a potluck, serve at your own family dinner, or make a big batch for lunches during the week. (It's so delicious, you might be tempted to do all three.) Mint, capers, chili flakes, and lemon give it tons of flavor, along with a simple shallot and anchovy vinaigrette that gets tossed in at the end. Not only is this dish healthful and satisfying, but it also looks beautiful in the bowl. Cauliflower sides don't tend to be the most photogenic thing on the table, but the dandelion greens in this recipe really bring it to life. In fact, it looks (and tastes) so good, you can't help but reach for seconds. XXJKE
Gjusta's Cauliflower and Dandelion Salad
Recipe
Gjusta's Cauliflower and Dandelion Salad
Servings: 4 people
Units:

Course: Salads, Sides
Ingredients for the Salad
1 head cauliflower divided into small florets
1 bunch dandelion greens chopped into 2" pieces

1/2 cup

118 ml

parsley leaves pulled

1/2 cup

118 ml

mint leaves pulled

1/8 cup

30 ml

capers

1 cup

237 ml

grapeseed oil or peanut oil
1 tablespoon red chili flakes

1/4 cup

59 ml

olive oil
1 lemon zested and juiced
salt + pepper to taste
Ingredients for the Anchovy Vinaigrette
3 tablespoons white anchoives chopped
2 garlic cloves grated
1/2 small shallot bulb grated
1 tablespoon capers chopped
1 teaspoon chili flakes

1/2 cup

118 ml

red wine vinegar

1 cup

237 ml

olive oil
Anchovy dressing
Put ingredients in a bowl, add the red wine vinegar, slowly whisk in the olive oil. The dressing should be separated, not emulsified
Salad
Fry capers: Heat oil to 325, add capers, fry until crispy, about 1 minute. Strain, and let cool.
Heat a large cast iron skillet, add olive oil and sear cauliflower florets, 2-3 minutes. Nice color, cooked somewhat through, but still have a bite. Or: heat oven to 400, toss cauliflower in olive oil, salt, and pepper, cook for 15-20 minutes. Let cauliflower cool.
Toss cauliflower with dandelion, parsley, mint, chili flake, lemon zest, lemon juice and fried capers.
Add as much anchovy dressing as you'd prefer. Garnish w herbs and more lemon zest.