Food & Drink
Whole Grain Chocolate Bundt Cake with Peppermint Ganache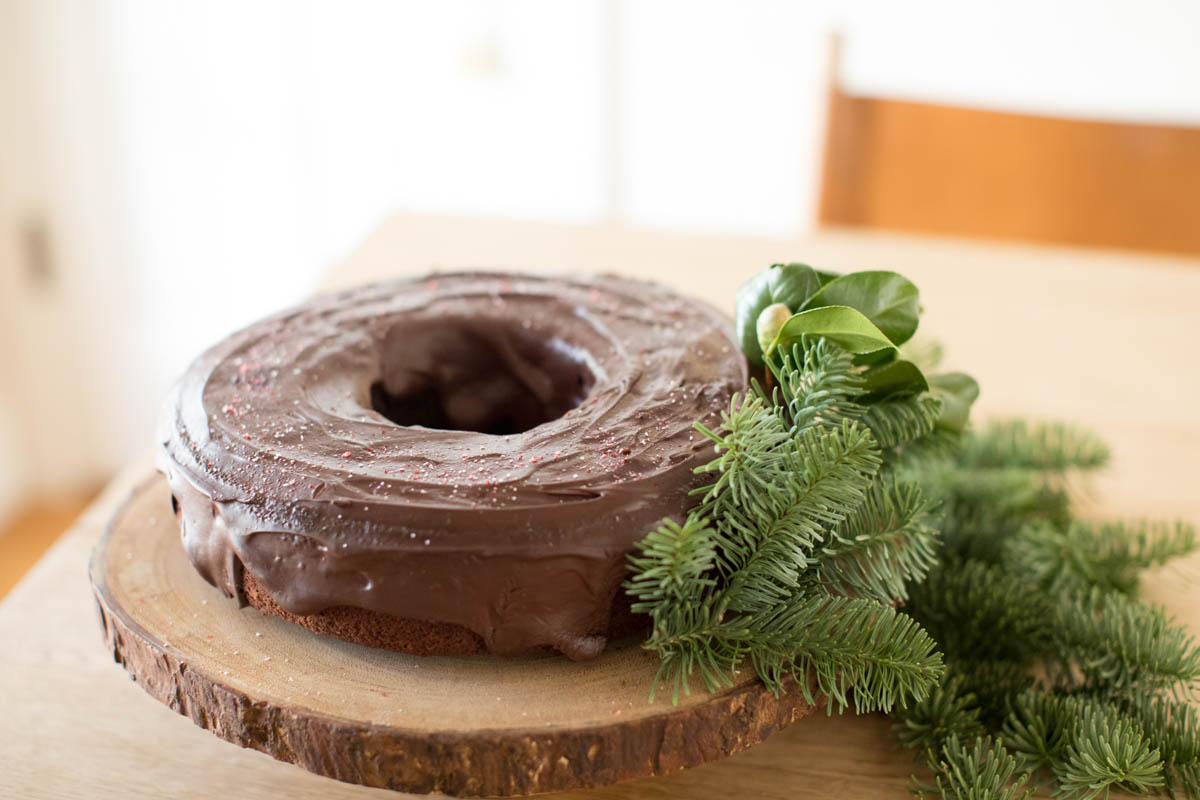 Here's a dessert that's a guaranteed crowd pleaser. This beautiful bundt cake is a favorite amongst chocolate devotees and the health-conscious alike. Get creative with seasonal toppings— we opted for crushed peppermint sprinkled on top of the drizzled ganache. Making a few modifications (like subbing coconut oil for butter) can make this treat dairy- or gluten-free and savored by all. Muscovado sugar is our preferred alternative to white sugar with its high levels of minerals and nutrients. With the addition of whole wheat and arrowroot powder, you can have your cake and eat it, too. XXJKE
Whole Grain Chocolate Bundt Cake with Chocolate Peppermint Ganache
Recipe
Whole Grain Chocolate Bundt Cake with Chocolate Peppermint Ganache
Servings: Yields 1 10-inch bundt cake
Units:

Course: Desserts
Cuisine: American
Ingredients for the Cake:
1 cup

237 ml

boiling water
1 cup unsweetened cocoa powder

1 cup

237 ml

unsalted butter (2 sticks) at room temperature and extra for greasing pan

1 1/2 cup

355 ml

muscovado sugar or unbleached cane sugar
1 1/2 teaspoons pure vanilla extract
2 large eggs plus one egg yolk at room temperature
2 cups + 2 tablespoons whole wheat pastry puff or all-purpose flour
6 tablespoons arrowroot powder
2 teaspoons baking soda
1/2 teaspoon sea salt

1 1/2 cup

355 ml

buttermilk at room temperature
1 cup semi-sweet chocolate chips
Ingredients for the Ganache:
8 oz

227 g

semisweet chocolate chips (1 1/2 cups)
1/2 cup full-fat coconut milk well shaken
1 tablespoon unrefined virgin coconut oil
1/8 teaspoon pure peppermint extract
1 pinch sea salt
Preheat oven to 350 degrees. Grease a 10-inch bundt or tube pan with butter.
In a medium bowl, combine boiling water and cocoa powder. Whisk until the mixture is completely smooth. Set aside to cool and stir frequently to cool down more quickly.
In the bowl of a mixer, beat butter and sugar together until light and fluffy, about 4 minutes. Beat in vanilla and eggs. Stop the mixer and scrape down the bowl.
In a medium bowl, whisk together flour, arrowroot, baking soda and salt.
With the mixer on low speed, add half of flour mixture to the butter-sugar mixture. Then add the cooled cocoa mixture and buttermilk. Then add the remainder of the flour mixture, stirring until just combined. Stir in the chocolate chips.
Pour the batter into the prepared pan.
Bake at 350 degrees for 30 minutes.
Lower temperature to 325 degrees and continue baking until cake is set and a tester comes out clean, about 15-20 more minutes. Check the cake early in case your oven runs hot.
Cool cake for 5-10 minutes before turning out onto a cooling rack. Cool completely before adding ganache.
To make the ganache: in a double boiler or heat-proof bowl set over a pot of simmering water, melt together the chocolate, coconut milk, coconut oil and peppermint extract. Whisk until completely smooth.
Drizzle ganache over top of cake, allowing it to drip down the sides. Garnish cake as desired.